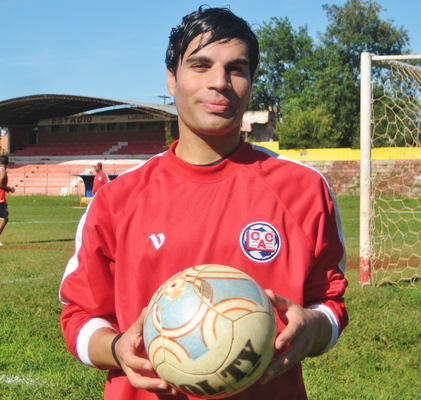 Geelong-born soccer player Lelo Sejean has signed with Paraguayan Third League club Atlético Colegiales after transferring from Atlántida Asuncion.
The 28-year-old winger and striker has been primarily based in Paraguay for six years after breaking into Paraguayan football via Sportivo Ameliano in 2013.
He had a stint with Sol del Este next before moving to Atlántida Asuncion in 2017.
Sejean was brought to the club by Brazilian goalkeeper Carlos Águia.
"Carlos is also my South American manager and now teammate (and) he brings a lot of players from Brazil to Paraguay," he said.
"We've got a great working relationship. He's also helped me improve my diet."
Sejean was selected alongside two Chilean players and recently made his first appearance with the outfit against Cristobal Colón.
"They allow up to four foreigners per team at max," he said.
"Players who aren't selected will unfortunately be without a club until the next transfer market, so I know how fortunate I am to be here."
Sejean also got a look in by Socceroos team manager Joel Freeme last year, according to his management.
For players outside of the Primera Division, it is not possible to live off the sport solely, so Sejean has worked as a part time English teacher to support himself while playing.
In February, he signed with Urban Model Agency, located in Paraguay's capital Asuncion, and he has appeared in Paraguayan media in various acting stints
The Aussie abroad is also a javelin thrower and juggles his time between disciplines.
This year he joined athletics team, Club Sol de América and has already competed in the Paraguayan Athletics Federations Competition.
Sejean previously received coaching from Edgar Bauman, who has been South America's javelin record holder since 1995.