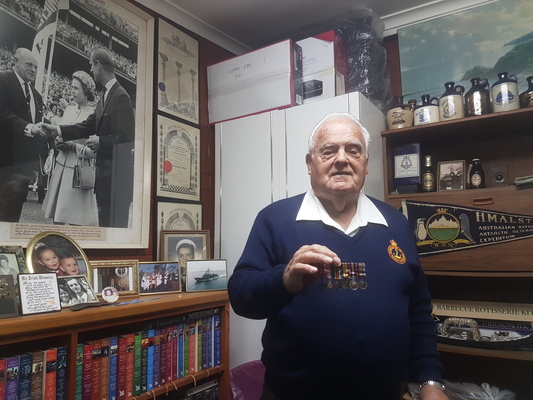 By Luke Voogt
A Geelong naval hero's prized artefacts are under threat, according to a navy veteran he initially entrusted with their care.
Norlane veteran Henry Collins raised concerns about the artefacts, once belonging to Charles 'Tug' Wilson, which until 2017 were on display at Geelong Maritime Museum.
"Now they've been stuck in boxes," the 90-year-old told the Indy on Monday.
"I don't know what they've done with it because they've closed it all up."
Mr Collins feared for the future of museum after the city's administrators closed its home, Osborne House stables, citing mould problems in 2017.
National Wool Museum then took over the care and management of the 'Wilson Collection'.
"It is my hope that all the donated artefacts have been kept in good order so we, the people, can give again to Geelong's only naval museum," Mr Collins said.
But Geelong council's latest Osborne Park precinct plan makes no mention of Geelong Maritime Museum.
The museum originally displayed the memorabilia of Lieutenant Commander Wilson, a lifelong Geelong resident who fought for the Royal Australian Navy in both World Wars.
Mr Collins, who served in the navy at the end of World War II, met LCDR Wilson through a local masonic lodge, he explained.
Before his death LCDR Wilson made Mr Collins trustee for his collection  and in 1989 Mr Collins donated it to Corio Shire Council.
A series of curators kept the items in "good order" at Geelong Maritime Museum following the amalgamation of the city's councils in 1993, Mr Collins said.
But the items were in poor condition last time he saw them, he said.
LCDR Wilson's historic photographs were incorrectly labelled and his sword had rust along the blade, he alleged.
"When they brought out the medals to show me you would think they dug them out of the mud," he said.
Mr Collins contacted council last March and in September met with National Wool Museum director Padraic Fisher, who apologised for the delay.
Council reviewed the condition of the objects and delivered its findings, including photos, to Mr Collins in October 2018.
But City Hall's investment director Brett Luxford said the blade had "minimal oxidisation" and provided photos to show this.
There had been "no noticeable change" in the condition of the items since National Wool Museum assumed responsibility for their care and management, he said.
Determining whether the items deteriorated between 1989 and 2017 was "impossible" with "no condition report nor photographic evidence from the time of the original donation", he said.
Mr Luxford provided no guarantee the items would go back on display and declined to detail any plans for Geelong Maritime Museum.
"The National Wool Museum does not hold these collection items, and currently has no plan to house or display them," he said.
"The Wilson Collection remains part of the Geelong Maritime Museum collection, and is packed and stored according to recognised and acceptable museum standards. "
He instead referred the Indy to council's upcoming municipal cultural strategy, which includes heritage collections.