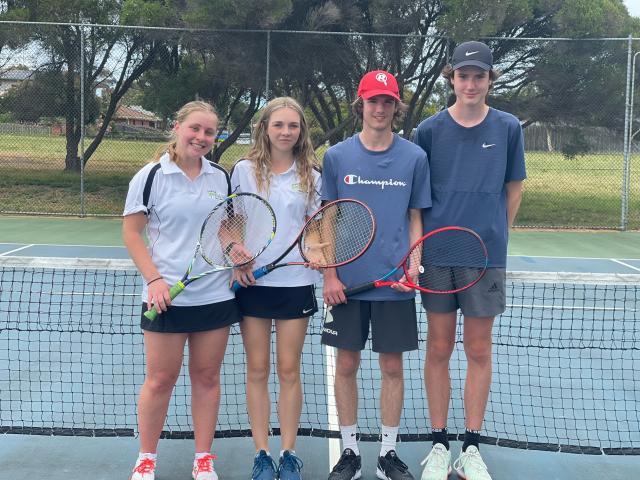 Donna Schoenmaekers
In Tennis Geelong juniors, section 3 boys got a lot closer this week, and although ladder positions didn't change, after round five there are only 15 points separating first to eighth.
Ladder leader Barwon Heads had its lead at the top cut from five points to one, with an upset loss to second placed Ocean Grove White.
The Heads started strong with Jack Huynh and Finley Hutton winning the first two singles 6-2. Grove White hit back with Timothe Garnier and Rafael Berra taking the third and fourth singles 6-2, 6-1, giving them a one game lead going into the doubles.
A mix up of the doubles combinations for Ocean Grove White proved the difference in the end, with White taking both doubles 6-5 and 6-1, and putting it four points closer to leading the ladder.
Drysdale also crept closer to the ladder leader with a 4-2 win over Clifton Springs/Drysdale.
The match was tied after the singles, with Sam Duff and Olivia Remilton taking their singles for Drysdale, and Dante and Raphael Nicholls getting the combination team on the board in theirs.
The difference for Drysdale was the doubles, where it took them 6-2 and 6-3 giving it an 11 game advantage.
Fourth placed Grovedale increased its lead on fifth placed Clifton Springs with a 4-2 win.
The first two singles were long and close, both ending with tie-breaks, with Malachi Hedt taking the first for Grovedale and Rory Maye the second for the Springs.
Euan Rettalack and Chris Watkins then took the final singles 6-3 and 6-4 giving Grovedale a two set and five game lead into the doubles.
Things became very close with Clifton Springs taking the first doubles 6-4, but Grovedale rallied to take the last 6-2.
The final match of the round was an abridged match between Ocean Grove Blue and Wandana Heights, sitting seventh and eighth.
Due to a late withdrawal due to COVID issues, the match was reduced to three singles and one doubles, with the remaining sets split between the teams.
In the sets that were played, things were again close with Riley Eyck taking the first 6-1 for the Grove while Sam Lauder took the second 6-3 for the Heights.
Daniel Golightly kept the Grove in front with a win in a tie-break, but Daniel Mills and Sam Lauder got the doubles 6-4, leaving the match tied on sets with the Grove ahead by a game.