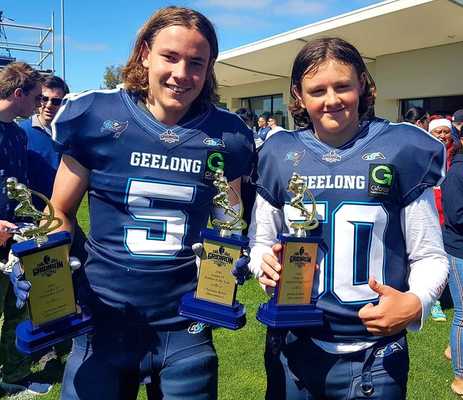 by Luke Voogt
Geelong Buccaneers' under 15 team has fallen agonisingly short of a fairy tale premiership in its inaugural season, going down to Croydon Rangers 12-30.
Running back Jordan Wellington led the Buccaneers' valiant offense scoring both their touchdowns, including the first of the game.
But with a 16-6 score at halftime, the Buccaneers were unable to mount a second half comeback and lost to the more experienced Rangers.
During his first touchdown Wellington received some great blocks to carry the ball 65 yards to the end zone, Buccaneers head coach Daniel Noonan told the Indy.
In his second he broke "six or seven tackles" and ran the ball 50 yards, Noonan said.
"I reckon he made every single one of their players miss. He led the way on the offence."
He praised Wellington, who he said played through a broken thumb and other injuries in the second half of the season.
Line-backer Christian Barsic also had a standout final game on defense, Noonan said.
The season was the first for Geelong Buccaneers American Football Club's junior varsity team.
The rookie squad starred all year to finish top of the ladder and make the Vic Bowl championship game.
While disappointed to fall short of a championship, Noonan was proud of his team's succes.
"This is a group of young men who were playing gridiron for the first time this year," he said.
"To come up against a team that has played together for three years is tough. It's a huge achievement just to make it to the Vic Bowl."
Noonan hoped to retain most of the group for next year and gain some new recruits to become a "powerhouse" club in the league.
The Buccaneers still managed individual honors for 2019 with Jarrah Neilson winning best defensive line player and Christian Barsic winning best rookie and defensive player.
Victoria Gridiron Officials Association voted the Buccaneers best conducted team in the league while Noonan was its top coach for 2019.
Buccaneers president Melissa O'Toole said the club award was "a real testament to the culture of family and respect that we have built".
"We have a small but dedicated team of volunteers that work extremely hard to put our teams on the field each week.
Seniors players Michael Khair and Kylie West won men's offensive line MVP and women's defensive MVP respectively.