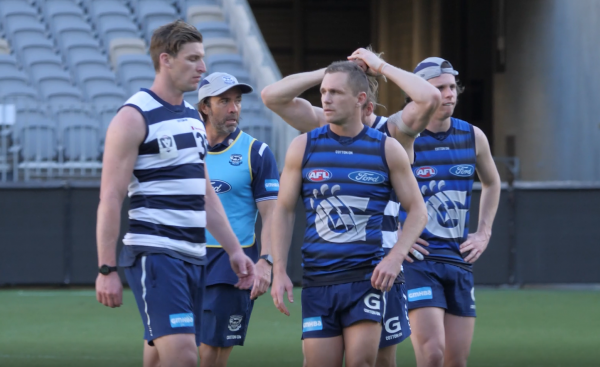 By Luke Voogt
Geelong Cats coach Chris Scott is backing his midfielders and forwards to take the game to the Demons in Friday night's preliminary final.
"I think it's folly to go in thinking [Christian] Petracca, [Jack] Viney,[Clayton] Oliver and those guys need to have really low possession games for us to win, I don't agree with that notion," Scott told a press conference on Wednesday as the Cats trained on Optus Stadium.
"I'm not going to diminish them in any way, shape or form but we are going to back in our midfield."
While the Cats will seek to limit players like Oliver, Melbourne faces a similar threat from Geelong midfielders Patrick Dangerfield, Joel Selwood, Cam Guthrie and Mitch Duncan.
"It's a question for both sides," Scott said.
"There is a really clear line there for us where trying to stop them becomes an overall negative for the way our team wants to play.
"I suspect there'll be a little bit of both teams trying to get the game on their terms and be proactive with their midfielders, with a couple of contingencies if that's not working.
"We've got a really good midfield that we'll back in [and we are] potent ahead of the ball, and if those two parts of the game go well for one team or the other, their defence is going to look pretty good behind it."
Scott applied the same mantra to Rhys Stanley taking on All-Australian ruckman Max Gawn and suggestions Geelong's forwards needed to contain All-Australian defenders Jake Lever and Steven May.
"We always have plans for the best players," he said
"I really liked Rhys Stanley's game last time we played."
"Lever and May have got to stop our guys, that's the way we're looking at it," he added.
Geelong goes into the preliminary final without hardworking midfielder Brandan Parfitt or backline general Tom Stewart due to injuries.
"When you take your best player out of an area of the ground there's always a period of instability there," Scott said of Stewart.
"I think last week and getting Zach Tuohy back will help stabilise us a bit."
"We've been able to overcome less than full availability all year. We've had at least a handful of our very best players unavailable for big chunks of the year.
"We would have liked it to come together a little bit better by now but we've still got a team that can win a couple of games."
While star players Duncan, Dangerfield and Jeremy Cameron have missed large parts of the season, Scott said "the lack of cumulative load" could be a small positive for them.
Geelong's round 23 loss to the Demons was more relevant to Friday night's game than historic encounters often referenced by the media during finals, he said.
The Cats had assessed the positives and areas for improvement from that game, Scott said.
"Hopefully we're not so positive and all Ted Lasso on our optimism, because there were parts of that game that weren't good enough.
"There were lessons learned on both sides of the coin that, especially given it was so recent, have some relevance."
The Cats form and consistency had improved since, especially in last Friday's semi-final win over the Giants, Scott said.
"Our last month of the home-and-away season wasn't as good as we would have liked. But within games there were really good patches there," he said.
"It wasn't as if we hadn't seen our best footy, we just hadn't seen it consistently throughout games."
He acknowledged Geelong would have to play "close to our best" to win the prelim final.
"We think we're capable," he said.