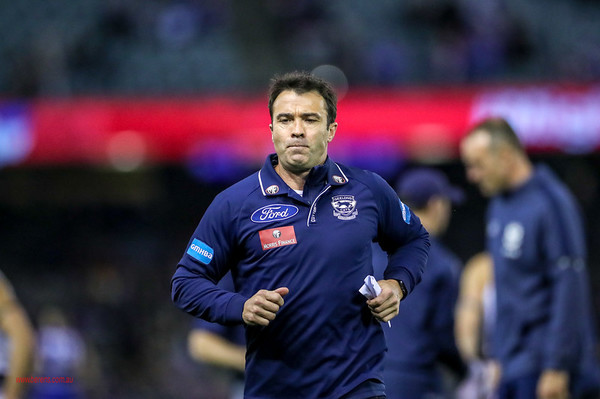 By Natalee Kerr
Geelong coach Chris Scott is "far from panicking" about his side's recent form, despite losing four of the past seven games to teams outside the top eight.
"Maybe we're in a little bit of a situation there, but it's not as if we've lost four in a row either," Scott said.
"We've got no intention in turning around the way we play at this stage of the season. We've got a high level of confidence that we can find our best football."
Scott defended the club's decision to spend a week interstate "team bonding" prior to their shock 34-point loss to Fremantle last Saturday.
"I think it's a really superficial and cheap analysis to say well it was only a good idea if you win," he told the media after the game.
The Cats led by 15-points at quarter-time, before Fremantle held Geelong to only four goals following the first break.
Geelong finished with a total of 61 points, their equal-third lowest final score this season.
"The outcomes have been a problem, we haven't scored as well as we did early during the year," Scott said.
"It's not going perfectly, but with three games to go we feel as if we've got ourselves into a pretty good position which was the plan at the start of the year."
After soaring to the top of the ladder with an 11-1 start to the season, the league leaders are now holding on to the top spot by percentage.
But Scott said the closing gap in ladder position "might not be the worst thing" for his side.
"I don't look back too often and too far, but for what it's worth last year our last two home-and-away games we won by over a 100 points," he said.
"In hindsight everyone said that was terrible preparation for a finals series. But maybe this preparation is better?"
Geelong will play North Melbourne tomorrow night at Kardinia Park as part of the annual Retro Round.
The Roos are coming off the back of a crucial 22-point victory against Hawthorn last Friday night that kept their slim finals hopes alive.
Geelong has won the last six out of ten games against North Melbourne, including a most recent victory in round eight this year.
The Cats could be without two big stars for the clash, with forward Gary Rohan out due to a knee injury and Jordan Clark expected to join him following an elbow injury sustained during training on Wednesday.