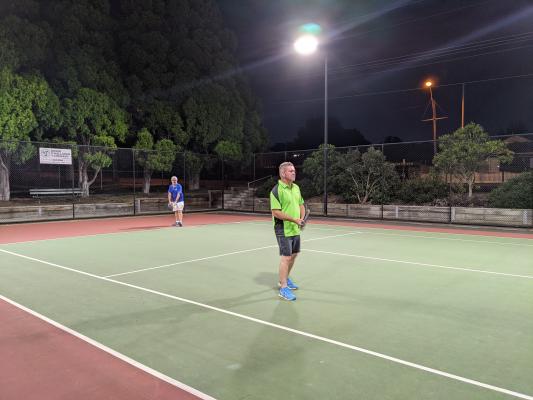 LOCAL TENNIS Tyler Crumholz
Highton's Top Blokes have won the top premiership in Tennis Geelong's Triples Night Competition.
The Top Blokes beat fellow Highton Tennis Club team Blokes with Bats 5-1 in sets and 33-23 in games in the section 1 grand final.
But Top Blokes player and Highton Tennis Club president Brian Spong admitted the match was much closer than the final score indicated.
"Every set was a battle and I believe the result in each set could have been reversed with a little more luck on the side of Blokes with Bats," Spong said.
The Top Blokes made a strategic change to their line-up for the club grudge match slotting regular number two Julian Arblaster in at one on the night.
It paid dividends, as Arblaster played some of his best tennis of the season, winning all three of his sets including a 6-5 upset against Blokes with Bats' number one Eli Worldon.
In the section 2 grand final Surfcoast Bellbrae won for the first time in three attempts this season against the Wombats, 5-1 and 34-24.
Bellbrae dropped the first doubles set, but then stormed back to win the next five.
Team captain Aubrey Comben was thrilled with the victory after claiming the wooden spoon in section 1 the previous season.
"When does the next season start?!" she exclaimed.
In section 3, Leopold capped off an unbeaten season with a 4-2, 27-20 victory over Go Crom.
Leopold team captain Dion D'Souza was unable to compete due to an injury and had to find a fill-in just days before the match.
After the first four sets, Go Crom led by one game.
But Leopold held their nerve in the last two, winning the doubles 6-0 before number one player Nicole Filippou capped off an undefeated season in the singles with a 6-4 win over Bradley Canny.
Section 4 had a seven-week season with no finals but the last round still had a bit of drama.
Wiii Tennis had only dropped two sets all season, but could not field a team and forfeited their round 7 match.
Grovedale Tennis Club's Jeuce won their last match 5-1, which catapulted them into first place on the ladder to win the premiership by just one point.
Tennis Geelong is considering holding an autumn or winter triples season, in addition to its normal spring season starting in October.
For details on all upcoming competitions visit: tennis.com.au/tennisgeelonginc