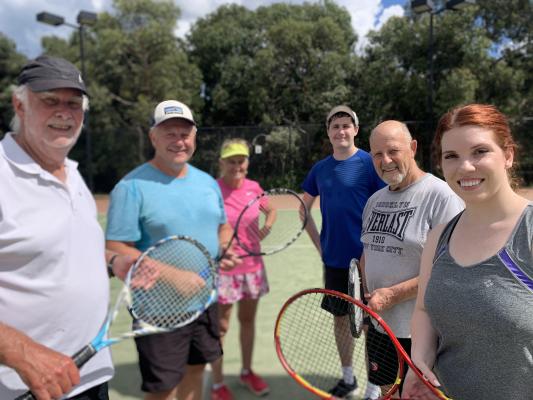 Geelong's section six mixed competition produced some of the most competitive tennis of the round, with all three matches at three sets all and decided on games.
With only four points separating second and fifth on the ladder, finals places are still up for grabs.
The weekend's results showed just how close the teams are.
First-placed St Mary's started strong with an early lead against fourth-placed Anglesea, winning the first three sets.
But the ladder leaders were unable to hold onto their advantage, dropping the fourth in a tiebreaker.
Anglesea continued to fight back in the second half of the match, winning the remaining two sets by wide margins.
Ultimately, the day ended with the teams equal on sets and games for a draw.
Following a bye the previous weekend, third-placed Aireys Inlet hit the road to take on second-placed Lara.
"We took the long drive up the highway, hoping for a victory against Lara but we were nervous," Aireys Inlet's Melanie Delmo said.
"This was our first weekend back to tennis after a long summer break. The first two sets confirmed how rusty we were.
"Andy [Brown] and I went down 6-1 and so did Kelly [Turner] and Jason [Stanley] 6-2. It was over before we started.
"The second sets became more interesting. The Aireys men won 6-3 and Lara pipped us ladies 6-4.
"In the last sets Aireys got a win in both, 6-4 and 6-3. We'd finally warmed up!"
But Aireys fell just short in the end, tied on sets with Lara winning by three games.
In the final match of the weekend seventh-placed Grovedale won against Highton by two games.
St Mary's and Anglesea still have a bye left in the home-and-away season, meaning all of the top five teams are in contention for finals.