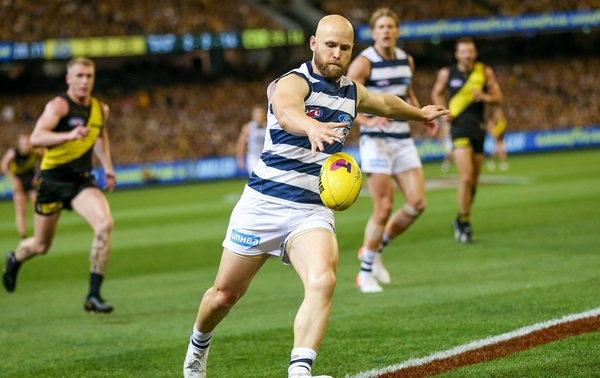 By Natalee Kerr
Geelong veterans Gary Ablett and Harry Taylor will play on next season, the club confirmed this afternoon.
Ablett will enter his 19th AFL season next year as he continues his 345-game career that began in 2002.
The Geelong champion made the announcement yesterday on media platform Exclusive Insight after weeks of intense speculation surrounding his playing future.
But the 35-year-old was clear that 2020 would mark his final season.
"I have no doubt in my mind that as a team we're capable of winning the premiership next year which is why I've decided to go around again," he said.
"But this is it. Next season, year 19, will be my last in the game."
Since returning to Kardinia Park after seven seasons with Gold Coast, Ablett has played 43 games across two seasons for the Cats.
Meanwhile Taylor is set to embark on his 13th season with Geelong next year, after 261 games with the club since his debut in 2008.
The 33-year-old played 24 games in 2019, including his 250-game milestone in round 14.
Geelong's general manager Simon Lloyd said the club is confident that both players will continue their strong contributions.
"Harry and Gary were both excellent players for us this year, and more importantly we see both as being able to contribute to us winning games in 2020," Lloyd said.
"Their on-field efforts were there for all to see, and they also took significant time to invest in our large base of emerging talent, speeding the development of this exciting group of players."