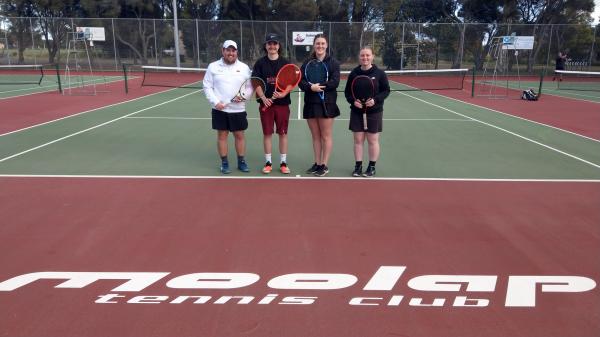 LOCAL TENNIS Donna Schoenmaekers
The extension of Victoria's COVID-19 lockdown this week to September 23 has caused the cancellation of Tennis Geelong's senior and junior semi-finals.
Organisers have postponed all grand finals to next Saturday, September 14, in hope of local community sport resuming after Premier Daniel Andrews on Wednesday indicated lockdown could end early in regional Victoria next week.
Even with an earlier easing of restrictions in regional Victoria, third-and fourth-placed teams will miss out on their chance for a premiership, with the minor premiers and runners-up of each section to face off.
The Section 1 men's grand final will be one to watch with Hamlyn Park hosting Clifton Springs.
Their two previous matches have been fiercely-competitive.
Hamlyn Park took the first at home, but barely, with a four-game advantage at three-sets-all.
Clifton Springs showed they could match it with the ladder leaders in the return visit, winning 4-2 in round 14.
Moolap will host Grovedale in the Section 2 men, where the teams will meet for the first time due to their three home-and-away matches being cancelled amid lockdowns.
The same scenario has played out in Section 5 where Grovedale and Leopold will play to determine who remains undefeated for the season to win the flag.
The undefeated Bannockburn look hard to beat in Section 4.
All Saints will hope to knock them over but, following a 0-6 loss to the minor premiers earlier in the year, they will need something special to get over the line.
In the Section 1 mixed grand final the undefeated Grovedale face Barwon Heads, with third-placed Newcomb ruing the latest lockdown, which has caused the side to miss its chance at a premiership on percentage alone.
Grovedale won 4-2 in its only clash with Barwon Heads all the way back in the opening round.
But Barwon Heads won its two sets 6-0, with Huon Bertino dominating.
Bertino and his comrades will need to find a way to improve the overall result and neutralise Jai Bosnjak, who is yet to drop a set this season.
Moolap and Grovedale Black will both like their chances in the Section 2 mixed final, with both teams taking one of their two matches.
Their encounters have been close with Moolap taking the round 1 clash 4-2, and Grovedale getting over the line by four games with sets tied in the sides' other encounter.
The Section 3 final could have been very different, with Wandana Heights jumping from fourth to first in the final round of the season.
They finished ahead of Centre Court by percentage, and will need to continue their good form late in the season to get over Centre Court, who took the sides' only match in round 3, 5-1.
Section 5 mixed is difficult to pick, with Anglesea and Newcomb finishing equal on points and Newcomb winning their last match by just two games.
But the Anglesea players have shown they are not to be underestimated after a 6-0 clean sweep against Newcomb in their first encounter.
Moolap will like their chances against ladder-leaders St Mary's in Section 4, after they took the first match 5-0 prior to a weather stoppage.
But the sides drew in the return match in round 9, with Moolap coming back after a slow start, indicating the final could still be a close affair.