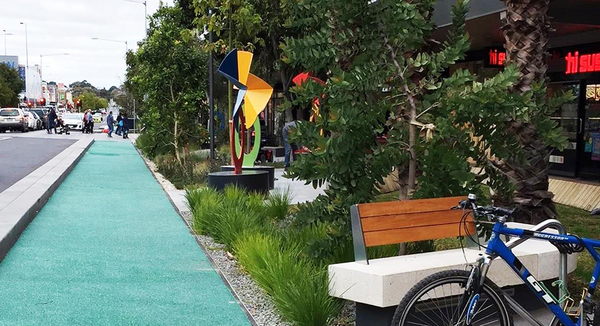 By Luke Voogt
Works on central Geelong's Green Spine and the city's main train station are under way as part of a joint state-federal funding deal.
The second annual progress report for the $382.48 million Geelong City Deal highlighted progress on the controversial Green Spine project to install bike lanes and linear parks along Malop Street.
The $5 million Green Spine block one is progressing, with drainage, kerb and channel works between Gheringhap and Clare streets complete and final works under way.
The progress report stated that a $3 million upgrade of Geelong Railway Station to install brighter and more energy-efficient LED lighting in car parks and the bus canopy is in its early stages.
The report highlights key milestones including the opening of a new $10.1 million, 440-metre Wave Attenuator last year.
Wangim Walk, now one of Australia's longest public on-water walkways, stretches out to provide a safe harbour for Royal Geelong Yacht Club.
Significant progress has also been made on the Queenscliff ferry terminal with a new boardwalk and rock groyne complete and construction of the terminal building under way.
The Twelve Apostles Precinct Redevelopment Project Plan was also endorsed, including a $23.4 million Private Sector Business Enablement Fund.
A number of major contracts have been awarded along the Great Ocean Road as a result of the city deal.
These include the detailed design of the $12 million redevelopment of Apollo Bay harbour, planning for the $5 million Apollo Bay to Skenes Creek Coastal Trail and $1.9 million for tourism infrastructure at Kennett River.
Local federal and state MPs lauded the progress of projects under the deal.
"The Geelong City Deal is creating wonderful new opportunities for tourism and jobs growth," federal Victorian senator Sarah Henderson said.
"I am anxious to see much-needed progress on the Geelong convention centre also."
Bellarine MP Lisa Neville said the deal was delivering for her electorate and the neighbouring seat of Geelong, with the Queenscliff ferry terminal set to "bring back visitors to the region".
"The Green Spine project is a vital part of the Revitalising Central Geelong Action Plan and a fundamental part of securing the economic success of our city," Ms Neville said.