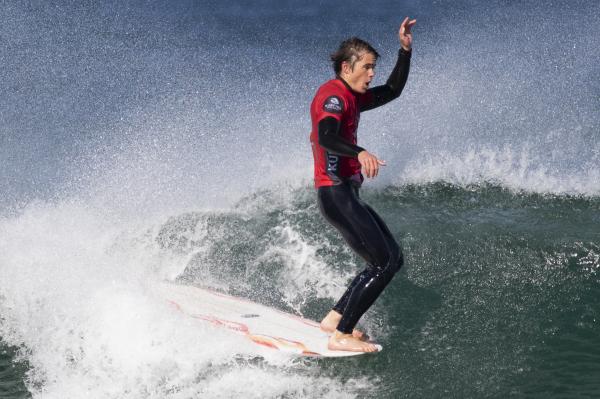 By Luke Voogt
Local longboarders dominated the first round of the state titles in "epic conditions" on their home break at 13th Beach at the weekend.
Barwon Head's Ben Considine took full advantage of the lefts on offer to win the open men's logger division, posting a near-perfect total of 19.37 in the final on Sunday.
"The waves were fun all weekend," Considine said.
"I'm stoked to come out with the win."
Point Lonsdale local Bea Conroy won both the open women's longboard and logger divisions with scores of 12.33 and 15.6 in the finals respectively.
"The conditions were nice," Conroy said.
"I'm stoked that we got some waves."
Geelong and Surf Coast locals won 11 of 15 divisions in round one of the Victorian Longboard Titles in conditions organisers described as "epic", with two to three foot waves and favourable winds both days.
Full Results:
Open men longboard
1st Andrew Burgan (Cowes) 16.30
2nd Ben Considine (Barwon Heads) 15.93
3rd Will Cousins (Torquay) 13.20
4th Ethan Harbinson (Torquay) 6.77
Open women longboard
1st Bea Conroy (Point Lonsdale) 12.33
2nd Emma Webb (Jan Juc) 10.07
3rd Eglantine Balland (Carrum) 6.57
4th Natalie Van Der Heyden (Cape Woolamai) 4.94
Open men logger
1st Ben Considine (Barwon Heads) 19.37
2nd Chad Mclauchlan (Ocean Grove) 14.60
3rd Will Cousins (Torquay) 13.17
4th Mathew Robertson (Armstrong Creek) 11.47
Open women logger
1st Bea Conroy (Point Lonsdale) 15.60
2nd Emma Webb (Jan Juc) 14.67
3rd Eglantine Balland (Carrum) 5.33
Over 40 men longboard
1st Greg Brown (Jan Juc) 10.40
2nd Chris Mcsween (Ocean Grove) 8.74
3rd Tomaso Bellisai (Mornington) 8.24
4th Yestin Griffiths (Drysdale) 6.20
Over 40 women longboard
1st Emma Webb (Jan Juc) 14.34
2nd Natalie Van Der Hetden (Cape Woolamai) 8.54
3rd Jacquie Chambers (Surf Beach) 7.70
4th Penelope Andrews (Geelong) 3.37
Over 50 men longboard
1st Greg Brown (Jan Juc) 16.16
2nd Brian Kuit (Torquay) 11.60
3rd Grant Hutchins (Barwon Heads) 10.93
4th Brett Lalor (Apollo Bay) 8.23
Over 60 men longboard
1st John Lane (Barwon Heads) 13.76
2nd Brian Kuit (Torquay) 11.37
3rd John Ayton (Torquay) 10.40
4th Brian Thompson (Safety Beach) 7.96
Over 70 men longboard
1st Wayne Yates (Armadale) 11.37
2nd Bob Smith (Jan Juc) 8.84
3rd Colin MacGowan (Anglesea) 3.34
Under 18 boys Longboard
1st Tate Russell (Cape Woolamai) 11.20
2nd Bailey German (Tootgarook) 9.56
3rd David Rau (Anglesea) 9.50
4th Ted Conroy (Point Lonsdale) 6.29
Over 40 men logger
1st Tim Edwards (Point Lonsdale) 11.06
2nd Tomaso Bellisai (Mornington) 10.33
3rd John Ayton (Torquay) 6.73
4th Chris Mcsween (Ocean Grove) 6.00
Under 18 girls longboard
1st Niamh Moore (Newhaven) 15.00
2nd Anna Thompson (Jan Juc) 6.17
Under 18 boys logger
1st Ted Conroy (Point Lonsdale) 13.40
2nd Bailey German (Tootgarook) 8.96
3rd Finn Stratford (Curdievale) 7.23
4th Thomas Barrett (Surf Beach) –
Over 50 women longboard
1st Heather Peck (Ocean Grove) 11.13
2nd Gayle Renzenbrink (Queenscliff) 10.43
3rd Jenene Nelson (Black Rock) 4.60
4th Carolyn Lalor (Apollo Bay) 2.20
Over 40 women logger
1st Anna Thompson (Jan Juc) 6.34
2nd Penelope Andrews (Geelong) 3.73
3rd Jacquie Chambers (Surf Beach) 3.33