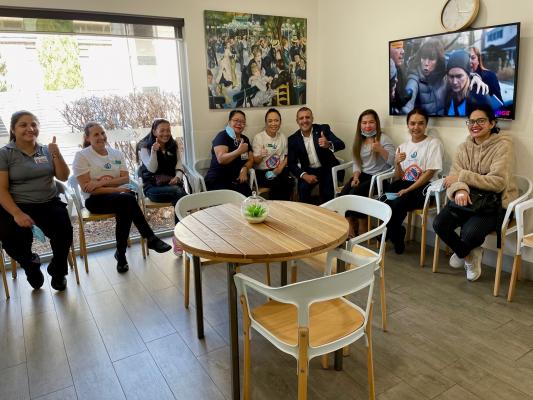 By Luke Voogt
Three Geelong aged care homes have completed the vaccination of 91 per cent of residents against COVID-19, operator TLC Healthcare has announced.
The health provider has administered a second dose of the Pfizer vaccine to 940 of about 1035 residents and staff at its centres in Wallington, Armstrong Creek and Belmont.
At Homestead Estate, Wallington, 144 residents (97 per cent) and 175 staff and contractors (92 per cent) have received the second dose, according to TLC.
At The Belmont TLC vaccinated the last of 301 (87 per cent) staff and residents last Thursday, while at Warralilly Gardens, Armstrong Creek, 320 residents and staff (91 per cent) have received the second dose.
TLC is the first residential aged care provider of its size in Australia to complete the vaccination of its residents, staff and contractors against COVID-19.
In February TLC applied to the Department of Health to administer the vaccine across its aged care centres after anticipating delays in the Commonwealth roll-out, according to chief executive, Lou Pascuzzi.
"I didn't want my staff and residents to endure another winter of nervousness and trepidation regarding this virus," he said.
Mr Pascuzzi said TLC's administering of the vaccine sped up the roll-out to its residents and staff, and freed up the department to visit other aged care homes "not in a similar position".
The healthcare provider will vaccinate a total of 3860 staff, residents and contractors, an uptake rate of 91.25 per cent.
TLC began administering the remaining 587 second doses of the vaccine at its Altona North aged care home on Monday to complete the five-week program.