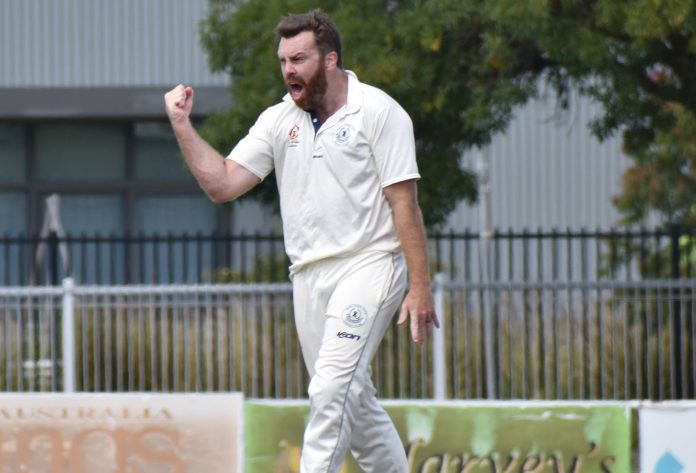 By Jim Timberlake
Geelong Cricket Club will need to pull a rabbit out of a hat if it is to finish the season on a winning note.
The Cats batted first last Saturday, with Mitch Reid (36) and Eamonn Vines (38) digging in for more than two hours for a solid 74-run opening stand.
In what could be seen as a microcosm of its season though, the wheels soon fell off as the middle order collapsed to be 6-117.
Josh McDonald (45) showed some resistance, but ultimately Geelong could only muster 217.
In reply, Prahran put it to the sword to go to stumps at 0-117.
While Geelong will hope to put in a more competitive performance with the ball tomorrow, one suspects that an early finish is more likely, meaning the club can put what has been a frustrating season behind it and look to next year.
Meanwhile, things couldn't be more different in the Geelong Cricket Association, with one round remaining before finals all three divisions still have no idea what the make-up of the finals will be.
In division one, Grovedale knocked off top placed North Geelong in emphatic style to keep its premiership hopes alive.
The Tigers still sit in fifth spot, but will start favourites when they take on Newtown & Chilwell, meaning that both fourth-placed South Barwon must win against Lara, while East Belmont has to defeat North Geelong, if they are to hold their spots in the top four.
To go into the last round with three of the five games still being so important to the final ladder is a mouthwatering prospect.
Selections: LARA v South Barwon, Bell Post Hill v MURGHEBOLUC, Leopold v ST JOSEPHS, East Belmont v NORTH GEELONG, GROVEDALE v Newtown & Chilwell.
In division two, barring any outright results, it looks like a simple equation for Geelong City, win and play finals, or lose and most likely make way in the top four for St Peters.
City take on Modewarre, who could still mathematically make it , but from a percentage point of view, it is highly unlikely.
Meanwhile, St Peters will play bottom-placed Manifold Heights, in a game it should win.
Marshall looks relatively comfortable in third spot, but plays in form Highton, so the Bears would not want to lose and rely on percentage to scrape in.
It's all to play for here, and in a season as up and down as this, expect the unexpected.
Selections: ST PETERS v Manifold Heights, Torquay v BELL PARK, GEELONG CITY v Modewarre, HIGHTON v Marshall
And while the division three ladder looks even tighter than the others, it really is just a matter of an elimination final this week between Lethbridge and Geelong West, as the winner will go through, while the loser will be left to lick their wounds.
The Rams will be happy to be playing this one at home on the turf, after Lethbridge beat them in January at home on the hard wicket.
Both sides have been in reasonable form since then, so this game will go down to the wire. An hour of bad cricket could cost either side dearly, but on the flip side, if someone can stand up and make the game their own, finals action awaits.
Selections: ALEXANDER THOMSON v Bannockburn, CORIO v Thomson, St Albans Breakwater v NEWCOMB & DISTRICT, Waurn Ponds Deakin v GUILD SAINTS, GEELONG WEST v Lethbridge.