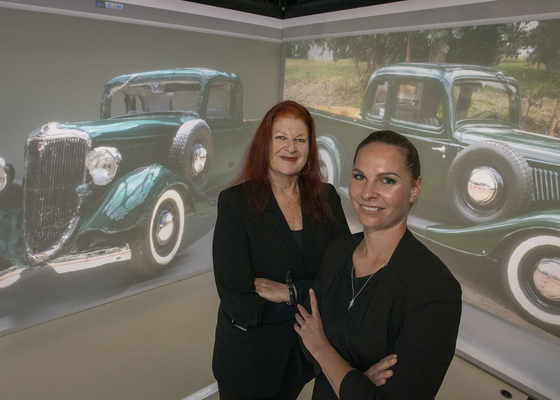 By Luke Voogt
The daughter of late Geelong Ford ute designer Lewis Bandt saw his celebrated vehicles come to life in virtual reality on Monday.
"I can see dad smiling on this," Ros Bandt said.
"Dad would have turned 110 on February 26 and it's lovely to celebrate that milestone by seeing the work of the Deakin (University) team, who are ensuring the virtual survival of this classic vehicle."
Dr Bandt, who works as sound artist and lives in both Melbourne and Barwon Heads, had a sneak peek at the project ahead of Geelong Design Week.
The project depicts her dad's 1934 ute – the first of its kind to roll off the assembly line at Ford's North Geelong plant.
Kaja Antlej, from Deakin's CADET VR Lab, said the project would allow motor fanatics to check out the ute along with a 2009 Ford Falcon XR6 in 3D.
"We have based our 3D images on one of the few surviving early utes that exist in Australia," Dr Antlej said.
"There are no models here in Geelong for locals to access, so this project will give people a virtual model to see and experience.
"We are exploring how immersive experiences like virtual reality change the way local communities think about heritage."
The displays will feature in free community presentations and workshops at National Wool Museum on March 24 as part of Geelong Design Week.
Booking is essential for the free activities. Details: www.geelongcityofdesign.com.au/geelong-design-week