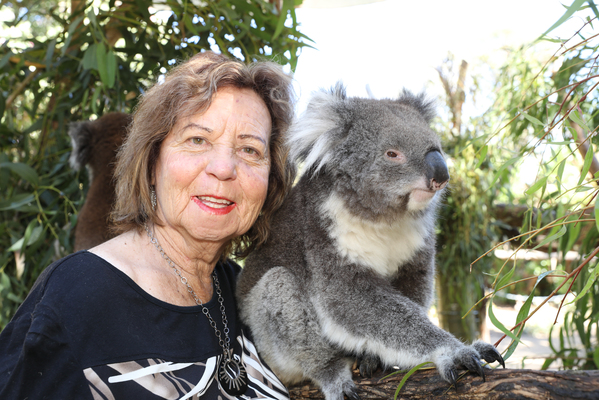 Passionate animal rescuer Tehree Gordon is challenging other older residents to continue to make a contribution in their later years after being recognised in the 2019 Australia Day Awards.
As a past recipient of the Senior Australian of the Year Award in 2004, Mrs Gordon and her "amazing supporter", husband Hamish, were invited to this year's Australia Day celebrations in Canberra.
The Barwon Heads resident said the highlight of Australia Day for her was "witnessing so many wonderful Australians receiving honours and hearing their stories".
She and several other local recipients are due to be presented with their accolades at a ceremony for Victorian winners yet to be held in Melbourne.
"I'm humbled but ecstatic to receive an OAM," she told the Indy.
"It certainly gives me more drive to keep on going. It's such a huge honour."
Ms Gordon described herself as a "passionate Australian but still very humble".
"I've had people asking me, 'So now you've scored another award, when are you going to retire?'. I just say 'I'm 75 now and there's no use-by date," she laughed.
"There is still a role in the community for people of our age. If it can help make a difference it's worth doing.
"I still want to educate people about wildlife and the environment.
"I used to be the fastest one up a tree to rescue koalas but after my stroke and MS I'm a bit slower now. But I'm still just me and I'll keep harassing people about things that matter."
Mrs Gordon's Order of Australia Medal formally recognised her service to conservation and the environment. She has also been a foster carer for 41 children over 30 years and regularly hosts people with disabilities or special needs.
"The one thing I've pushed all my life is respect for the environment and community. It's also important to acknowledge that it's okay for people to be different," she said.
"Respect for each other flows on to the environment, our neighbourhoods and society in general. We all have a contribution we can and should make in our communities."
FULL LIST OF LOCAL AWARD RECIPIENTS AT GEELONGINDY.COM.AU
Other local 2019 Australia Day Award recipients were:
AM
Dr Werner Bischof of Portarlington:
For significant service to dentistry, and to professional dental organisations.
AO
Professor Daryl Le Grew of Eastern View:
For distinguished service to education, to research infrastructure development, and to architecture.
OAM
Mr Kevin Gerald Egan of Torquay:
For service to the community of Torquay through his work with Torquay Returned and Services League Sub-Branch Inc. and the Lion's Club of Torquay.
Mrs Ruth Christian, of St Albans Park:
For service to the community of Geelong, particularly for her volunteer work with Anglican Christ Church Geelong's community meals program and East Geelong Rotary Club.
Mr Warwick Hadfield, Newtown:
For service to broadcast media as a journalist. He worked as a sports editor and presenter with the ABC and has been working with film-maker Katrina Lawrence since 2015 on a self-funded project to record the story of Australian service men and women.
Dr Bernie Jenner of Geelong:
For service to the community of the Barwon region through Gateway Support Services (formerly known as Barwon Interchange), Hope Bereavement Care and as a paediatrician with Geelong Hospital Barwon Health.
Mr Neil Lamond of Geelong:
For service to tennis, particularly with Tennis Geelong, Geelong East Uniting Tennis Club and the Churches Tennis Association.
The late Mr Michael Parks of Geelong:
Posthumous award for his service to the community of Geelong as a former Councillor and Mayor of the Shire of Corio and member of the Royal Geelong Yacht Club, 1978-2018, Polish Ex-Servicemen's Association of Australia, 1950-2018, Rotary Club of Corio Bay, 1979-2013 and founding member of Bell Park Sports Club.
Mr Terry Wills Cooke of Wallington:
For service to the community as Chair of the CEO Institute since 1993, President of Geelong Art Gallery, co-patron of
Melbourne Symphony.