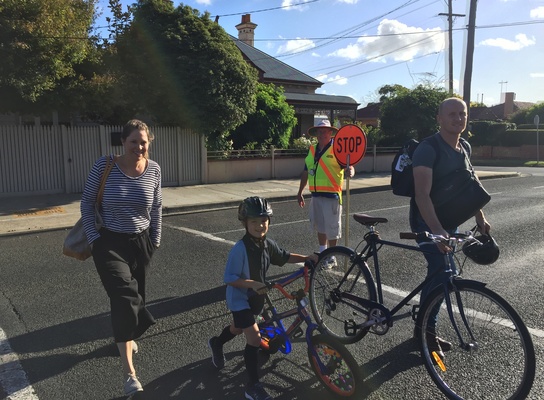 By Gill Cooper
Geelong Highway Patrol officers will launch a city-wide traffic blitz this month at local school crossings to target speeding drivers and parking issues.
Policed urged drivers to heed parking and 40km/h speed restrictions around local schools as primary and secondary students all returned to class this week.
Leading Senior Constable Sam Thorley said he was unaware of major incidents during the first day of school for primary students but regular police operations targeting crossings would begin soon.
"Driver behaviour near school crossings is an ongoing concern for us," he said.
"Initially, while people are getting used to reduced speed limits after the long holiday break there appears to be a fair bit of confusion.
"The biggest problems are excessive speed going through crossings and people double-parking near crossings, particularly at drop-off and pick-up times.
Police would "take an educational approach" at first to remind drivers of the ruled but once the school year was fully underway they would have a "a zero-tolerance approach", Led Cons Thorley said.
Geelong Highway Patrol members regularly met council local laws officers and school crossing supervisors to address their concerns on the ground, he said.
"Highton, Belmont and Newcomb are particular hot spots around schools, particularly parking issues but it's everywhere really.
Led Sen Const Thorley said parents often showed a lack of common courtesy at pick-up and drop-off times, when they became frustrated and made "poor decisions".
"We're still getting fairly high speeds at crossings. When supervisors wearing fluoro vests near crossing flags are at risk from speeding drivers then small kids running in between cars are even less visible.
"People need to be mindful of slowing down on major roads once high schools start, especially places like Kardinia College in Bell Post Hill.
"We will be responding to complaints from crossing supervisors and anyone else with issues at schools can also report these to Crimestoppers."