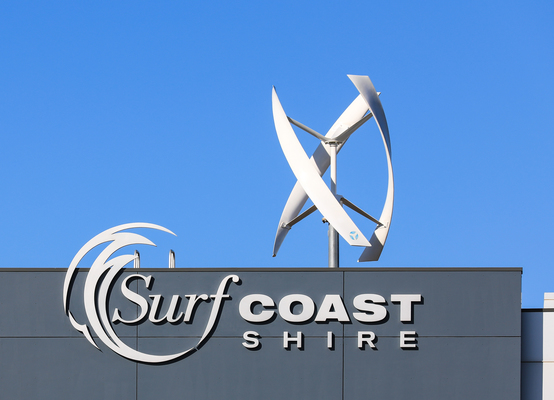 By Natalee Kerr
Surf Coast Shire has confirmed its office-top wind turbine is working again after councillors this week declared a global "climate emergency".
The seven-year-old vertical-axis turbine had resumed "contributing to on-site energy generation", shire culture and community manager Chris Pike told the Indy.
"The turbine has been subject to repairs in the past. Its use is managed subject to conditions," he said.
The turbine has spent long periods idle since its installation in 2012 after breaking down at least twice in high winds.
Mayor Rose Hodge's casting vote committed council to joining the climate emergency movement this week after councillors split four apiece on the issue.
Cr Hodge was pleased councillors wanted to "make a declaration that would lead to action", she said.
"Council recognises that climate change is a having a significant impact on our planet and councillors agreed that it is time for action, both globally and locally."
The shire in July received two petitions with more than 1100 signatures asking council to declare a climate emergency, Cr Hodge said.
"There's a strong desire in the community for support and leadership on tackling climate change."
Council would now develop a plan to "slow the rate of global warming and mitigate the impacts of climate change", Cr Hodge said.
"Council will also be leading by example and establishing clear corporate targets for energy, emissions, water, waste, land use and biodiversity targets."
More than 40 councils across Australia have declared a climate emergency, according to research company ICF.
City of Greater Geelong could join them next month after Cr Sarah Mansfield, a former Greens election candidate, said this week she would raise a notice of motion at the next council meeting.