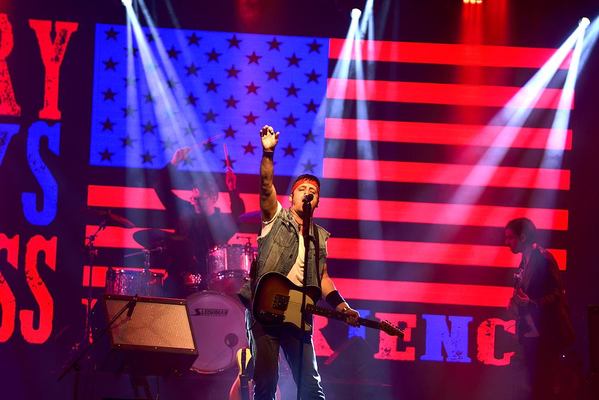 by Luke Voogt
A long-running Bruce Springsteen tribute is heading to Geelong for the first time on Saturday just weeks before 'The Boss' himself celebrates his 70th birthday.
"This is the first time our show's been to that region," said lead singer and Springsteen impersonator James Brennan.
Brennan was keen to "blow people's minds" with Springsteen's lesser-known "epic numbers" when Glory Days – The Boss Experience comes to Sphinx Hotel on Saturday.
"People are going to be in for a treat," he said.
"Most fans in Australia only know the radio hits, which is a shame because if this show was in America they would know every tune.
"We blow people's minds that have not heard some of the epic numbers we do during the show. And the hardcore fans would expect us to do them.
"It's the only way to really show the integrity and professionalism of the band."
The "very young" 56-year-old "fell into" the cover act "by accident" six years ago when he was doing a Neil Diamond tribute, he explained.
"Some of the fan club knew the agent, and rang him up and said, 'we reckon he could do a good Springsteen, you should ask him to do it'."
So Brennan put together the band, which had been going ever since thanks in part to his resemblance to The Boss, he said.
"I haven't had any plastic surgery or anything. But I've got a similar side profile and nose."
The long-time performer also strives to mimic Springsteen's voice and character.
"It's impossible to sound exactly like another person," he said.
"But I try to put on the persona as much as possible. I have the same guitars, clothing and the whole bit, as you have to."
The band had toured across Australia for years and was now expanding into Victoria thanks to a new Melbourne promoter, he said.
Brennan grew up in Sydney's western suburbs, and has been writing and performing his own songs since he was a teenager.
"My song-writing is the passion for me but the Springsteen show obviously takes a lot of time and dedication," he said.
"You can't just be doing one thing in music."
The tribute act had even seen him enjoy a five-week stint in the UK, which he described as amazing but "hard work".
"I played at one of the biggest tribute shows in the world at Yorkshire."
Saturday's two one-hour sets would include radio classics like Dancing in the Dark, I'm on Fire, Glory Days and Born in the U.S.A.
Joining him would be guitarist Michael Barker, keyboard player Ray Quon, saxist Jason Semple, bassist Jared King and drummer Danny Boldiston.
But Brennan was most excited about performing lesser-known songs, like his favourite Atlantic City.
"It's brilliant but you've got to hear the live version," he said.
"It's got so much light and shade and theatrics and feeling."
He saw Springsteen himself in Sydney a few years ago and hoped to replicate that experience.
"It was probably the best concert I'd ever seen."
And with Springsteen turning 70 on 23 September, Brennan said he would keep playing if The Boss ever stopped performing or touring Australia.
"We like to think that we can keep the music alive."