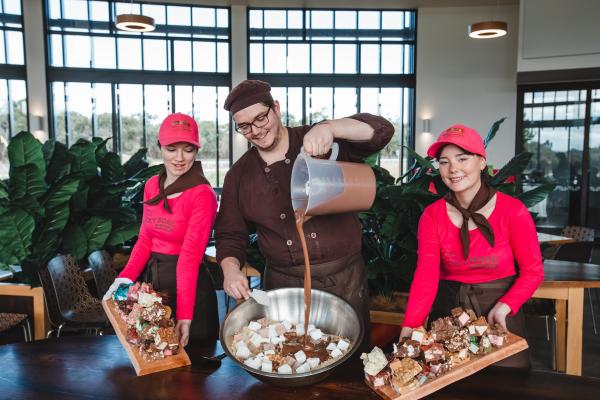 May is 'rocky road' month on the Surf Coast.
European chocolatiers at the Great Ocean Road Chocolaterie are set to take the traditional Aussie treat to new heights for their annual Rocky Road Festival starting tomorrow.
Discover how chocolatiers have transformed the traditional mix of nuts, marshmallow and chocolate into mega blocks of rocky road inspired by cocktails, decadent ingredient combinations, freshly picked produce from their kitchen garden and even vegan and gluten free varieties.
"We can't wait to welcome visitors back for our month-long dedication to this old time favourite – there's our most decadent line up of flavour sensations yet plus new ways to treat yourself either at our chocolaterie and online this year," Great Ocean Chocolaterie managing director Leanne Neeland said.
"People just love the ways our European chocolatiers have fun with this classic Aussie treat."
Leanne estimates this year's Rocky Road Festival will see them handcraft around 50,000 couverture blocks for rocky road devotees.
The Rocky Road Festival runs until May 31 at Great Ocean Road Chocolaterie, 1200 Great Ocean Road, Bellbrae. Details: www.gorci.com.au