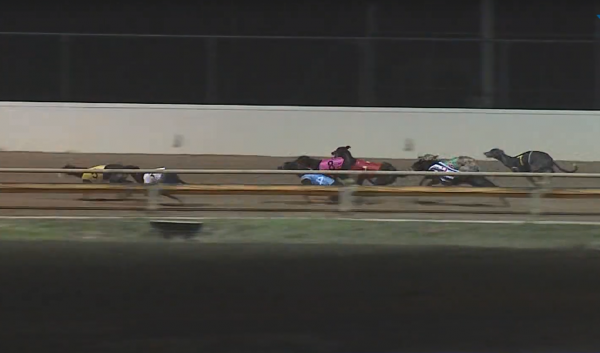 By Justin Flynn
The Coalition for the Protection of Greyhounds (CPG) has labelled Geelong greyhound racetrack as "the worst in Victoria" after the third death of a dog at the venue this year.
In Australia, 54 greyhounds have died while on tracks this year, and 14 of them have occurred in Victoria.
Geelong is equal-deadliest with other tracks that have notched up three deaths in Australia: Albion Park (Queensland), and Maitland, Richmond and Wagga Wagga (all NSW).
CPG national president Dennis Anderson said Geelong's track was oval in shape, which contributed to young greyhound Sylvie Bale colliding with another dog at the first turn and falling, sustaining a fractured elbow on April 23.
She was euthanased by the on-track vet.
Deaths and injuries in greyhound racing are more frequent at the track turns, CPG said.
In 39 race meetings this year, Geelong has seen three deaths and 94 injuries, including 13 major injuries.
Zed Bale died on January 2 and Finding Gobi on February 9; both were euthanased with broken forelegs.
In 2020, Geelong recorded a total of six deaths and 249 injuries.
"Like most greyhounds that die at the tracks, she (Sylvie Bale) fell at a turn after colliding with other dogs, and was euthanased with a broken leg," Mr Anderson said.
"Racing on a straight track will drastically reduce deaths and injuries. It won't eliminate them, but it will reduce them."
Mr Anderson said Healesville is the only greyhound racing venue in Victoria with a straight track. There have been no deaths there this year.
CPG is also calling on Greyhound Racing Victoria to reduce all race starters to six.
Racing industry research in 2017 showed six-dog races cut death and injury rates by 50 per cent.
"The only way to stop the suffering of these beautiful dogs is to ban greyhound racing," Mr Anderson said.
"Until that happens, the industry should act on what its own research recommended in 2017, that six-dog races and straight tracks are safer alternatives."
A Greyhound Racing Victoria spokesperson told the Independent that "the loss of a greyhound is distressing for all concerned" and that it had a long-term plan to make tracks safer.
"All track deaths are investigated and GRV is committed to ensuring greyhounds race on the safest tracks possible," the spokesperson said.
"GRV introduced the Greyhound Recovery Initiative in December 2016 which provides financial support for treatment of greyhounds seriously injured at a race meeting.
"The Victorian government's Code of Practice for the Keeping of Racing Greyhounds has welfare requirements over and above that of any other animal.
"GRV has a long-term strategy to make our tracks safer and we are collaborating with Professor David Eager from UTS to develop a scientific underpinning for safe racing.
"GRV has used this approach to rebuild the Horsham track and in the current rebuilding of the Traralgon track.
"Any changes we make at other tracks will be based on sound research and scientific evidence."