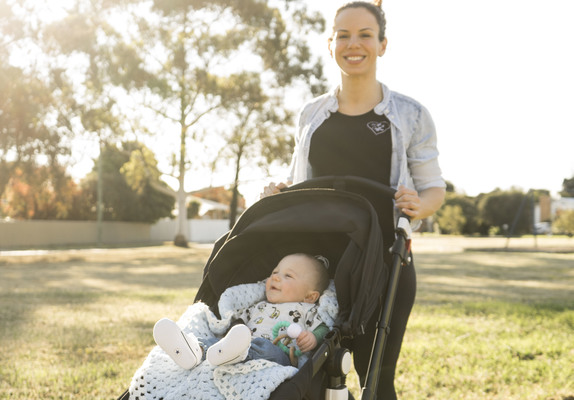 By Gill Cooper
A Corio couple is joining families across the nation in a fund-raising campaign and walk together in support of the 48,000 premature or sick babies born in Australia every year.
Lena Phillips and her partner Steve Moxon have already raised $1000 through online donations and direct support of clients at his gym The Training Room Geelong.
In March this year their son Tyson Anthony Moxon, now six month old, was born a tiny 1.9kg at 36 weeks.
Lena said the trio would be participating in the Walk for Prems 2018 to recognise some of the invaluable support they had received from Life's Little Treasures Foundation.
They will join other parents of premature babies in the 5km walk around Albert Park Lake and have already earned "Warrior" status due to donations secured so far.
Lena, 31, said she had felt unprepared, excited and anxious as an expectant first-time mum.
"At 28 weeks Tyson was diagnosed with In Utero Growth Restriction (IUGR) and we knew he was going to be really tiny and would be born prematurely," she said.
"It was terrifying and my pregnancy was quite awful really – the last eight weeks was spent going to hospital every second day for both of us to be monitored.""
Tyson eventually arrived safe and sound with no lung or other health issues and could be taken home after just nine days in the special care nursery at University Hospital Geelong.
Lena said she relied on access to critical information from the Foundation including factsheets and a phone app to help her decode medical terminology after multiple appointments with doctors.
"There's also been some great online forums I've remained in where I've been able to share experiences and reach out to other parents with premature babies," she said.
"Little prem babies are on a different curve with their development and physical size. This creates some issues you don't expect – practical things like general car baby capsules not fitting properly. And that there are inserts you can put in them. This kind of advice really helped us out."
Lena said she also had to adjust to the exhausting feeding regime for premature babies – every 90 minutes instead of the regular three-hourly feeds most newborns require.
"I'm definitely a bit more confident as a mum now – Tyson was so tiny and frail at first.
"Life's Little Treasures Foundation provide support services to families in need and it was so comforting to have a resource I could trust. I will be eternally grateful for that.".
To make a donation, visit www.lifeslittletreasuresfundraising.com.au/lenaphillips186