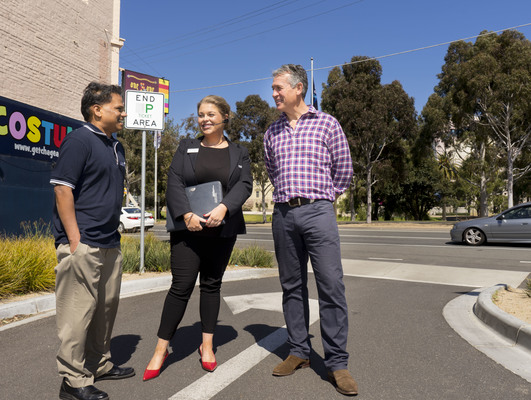 By Gill Cooper
Council is now committed to building its new $91 million civic offices in Mercer Street overlooking Johnstone Park and a short stroll from Geelong Town Hall and the Dome.
The project site, approved on Tuesday night, is Council-owned land currently used for car parking and was originally purchased by the City in 2007.
Deputy mayor Peter Murrily said settling on the preferred location at 137 Mercer Street would help Council create "a very impressive civic precinct".
Council's new consolidated offices will be built opposite Geelong Library and Heritage Centre, close to the Police complex, Courts and other State Government buildings in central Geelong.
"It wins on location. In an important part of the city," Cr Murrily said. "With this site there's an opportunity to not only build a building, but a building with a presence."
"Many constraints of council staff doing their business will be resolved by moving into one central office," he said.
The project will bring 760 Council staff from eight existing bases into one new administration office. The City has said this will "improve internal communication, organisational effectiveness and reduce duplication of facilities" to rein in the costs of maintaining multiple buildings over the longer term.
Recent public consultation in August drew a total of 151 submissions which were considered by a Panel of Councillors and the project advisory committee earlier this month. Of those, 117 agreed that Geelong Gallery should be allowed to expand into part of the Town Hall to stage major exhibitions.
According to the panel's summary, 85 submission fully supported the consolidation of council administrative functions into one building however significant concerns were raised around parking and traffic management around the new building.
Cr Murrily said he noted from recent consultation process there was "very little objection to us taking this step. "There seemed to be a high level of understanding from people of the need."
He said the project would enable "at least $1 million of current operational budget to be trimmed along with the sale of assets".
"We want to deliver new offices at no adverse impact to the ratepayers."
Cr Anthony Aitken said he was concerned only 120 car parks would be built of which 20 would be available to the general public.
"It would be negligent to build this building with only 100 carparks for 700 staff," he said.
"We do understand it's not sufficient for the need and there is a business case to address the issue of car parking," he said.
Cr Aitken said he was excited about the prospect to restore the 1917 Town Hall back to its original grandeur whilst allowing the gallery to expand into the West Wing and annex created in 1969.
"This allows the art gallery to fulfil its potential by using this West Wing footprint… and go up to link with the library," Cr Aitken said.
"We will retain the Town Hall for council meetings and civic functions including citizenship ceremonies." he said. "I think everyone's a winner in terms of this project."
Mayor Bruce Harwood said the project was "a huge opportunity" for Geelong. "It gives confidence to the developers of the city," he said.
"When this project does commence I think the community will be proud of what Council is doing, proud of the building and proud to own it."