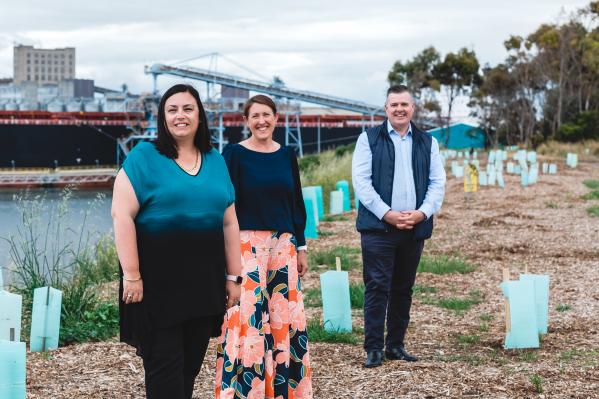 By Luke Voogt
More than 1600 saplings now line the grounds of a North Shore reserve following a recent project, with council planning to plant 1400 more trees.
The joint council and GeelongPort revegetation project at Moorpanyal Park is the latest development in a 16-year transformation of the former industrial area.
During that time the North Shore Residents Group and other green thumbs have planted more than 70,000 indigenous grasses, trees and shrubs along the cliff top.
"The green revival of Moorpanyal Park is one of Geelong's environmental success stories," Windermere ward councillor Kylie Grzybek said.
"The ongoing restoration of one of Corio Bay's hidden gems highlights the benefits that can be delivered when the council, industry and community work together."
In the 1600-tree stage one of the revegation project, GeelongPort provided funding to purchase the plants, stakes and guards, while council workers planted the trees.
The organisations shelved initial plans for a community planting effort due to COVID-19 gathering limits.
"We look forward to involving the local community in the next stage of the planting program when it begins next year," Cr Grzybek said.
Council plans to involve both local residents and GeelongPort employees in the second stage of the project to add a further 1400 trees.
Planners intend the trees to beautify the area along The Esplanade and provide habitat for a variety of wildlife.
"This project takes us a little bit closer to our goal of greening Geelong and planting one million trees by 2030," Windermere ward councillor Anthony Aitken said.
Luke Voogt