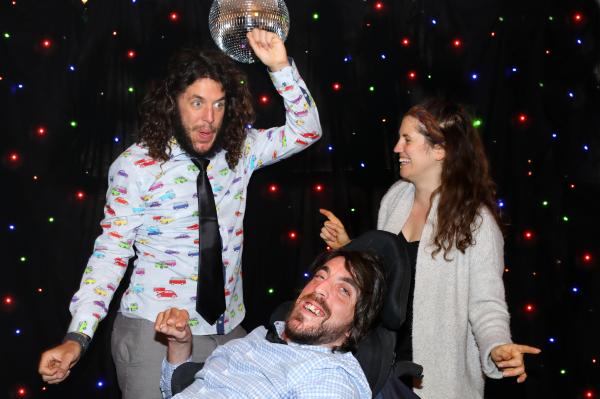 By Luke Voogt
Geelong DJ Ryan Schmidtke – AKA DJ Fuzzy Logic – wants locals ready to dance when he makes his long-anticipated return to the decks.
The central Geelong resident will bring the beats for a free online disco and masquerade for International Day of People with Disability next Thursday.
"I want people to be prepared to dance," he said.
Ryan, who has cerebral palsy and entertains crowds using a specialised DJ kit, was unfazed by the unusual challenge of performing online.
"I'm looking forward to it," he said.
"There's nothing wrong with something a bit different."
The gig is Ryan's first since playing at the Ocean Grove Hotel at the beginning of 2020 – a strangely quiet year for him.
Pre-COVID-19 the 31-year-old was a regular at big gigs like charity event Sleep At The 'G after more than a decade behind the turntable.
He plans to bring a mix of dance and party tunes, both new and old, for the gig next Thursday at 12pm.
His support worker Connor Thompson will join the online crowd donning a fancy mask for the event.
"Even I'm looking forward to this and I'm one of the overworked roadies," Connor said.
Connor's sister and Rights Information and Advocacy Centre team leader Rachael Thompson was also excited for the event.
"Last year we had about 80 people turn up and it was a really successful night," she said.
"That was derailed this year, obviously, and we wanted to do something, so virtual is the way to go.
"This time we can reach the national audience so hopefully everyone tunes in at lunchtime."
Details: events.humanitix.com/let-s-party-free-virtual-disco-idpwd
Luke Voogt