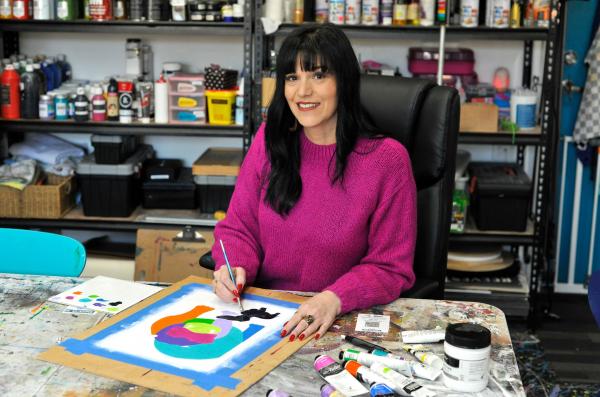 A Marshall grandmother has made the AusMumpreneur Awards in an impressive 10 out of 11 categories that she was nominated for.
Justine Martin, who has multiple sclerosis (MS) and has survived three cancers and three heart surgeries, is in the running for categories including "Disabled Business Excellence" and "Women Will Change the World".
"I was blown away – absolutely gobsmacked," the 50-year-old said.
"Ten years ago I was told I would never be able to work again. Never tell me 'can't'."
Justine's mother also had MS and died at age 49.
"She never exercised, ate terribly, smoked and didn't look after her mental wellbeing at all," Justine remembered.
"There weren't the support services that there are now. She did the best that she could."
But Justine took a different path after her diagnosis.
"One day I just thought, 'what are you doing with your life?'" she said.
"'Your journey is not your mother's journey'."
After months sitting in the carpark of a Perth gallery building her courage, she took the plunge and joined an art class.
"I took to it like a duck to water," she said.
Justine later moved to Geelong, and has since co-authored and illustrated books, won almost 40 awards for her art and developed resiliency courses.
She also runs art wellness classes for people with disabilities.
While MS impacts on her counting, cognition and motor skills, she describes the condition as "just a small part of me".
"I like to think my story is someone else's survival guide," she said.
"Maybe they can look at their own lives and go, 'if she can do it, I can do it too'."
Luke Voogt