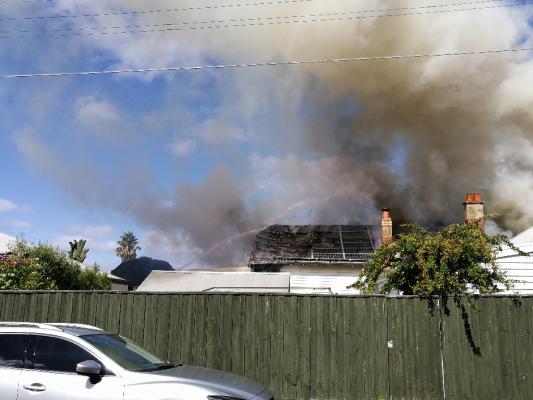 By Luke Voogt
Flames tore through an East Geelong house this afternoon before Fire Rescue Victoria (FRV) crews brought the blaze under control.
A caller to Triple Zero (000) reported the fire just before 3.50pm, according to FRV.
"Crews arrived at the McKillop Street scene within three minutes, finding the house well alight," an FRV spokesperson said.
Four trucks attended the incident with more than 20 firefighters working to extinguish the blaze.
"Crews worked quickly to attack the fire, bringing it under control just before 4.20pm," the FRV spokesperson said.
"There was extensive damage to the house, but thankfully nobody was injured in the blaze.
"Nobody was home at the time the fire broke out.,"
Witness Jerin Jacobs saw dark smoke billowing out of the roof and occasionally flames as firefighters put out the fire.
"I'm sure it was a very nasty fire," he said.
"It was pretty scary. All the neighbours were out in the street to what had happened."
FRV's specialist fire investigators will investigate the cause of the fire but are not currently treating the fire as suspicious.
The Independent understands the occupants of the home were at work at the time of the fire.
FRV was supported by Victoria Police and a power company at the scene.