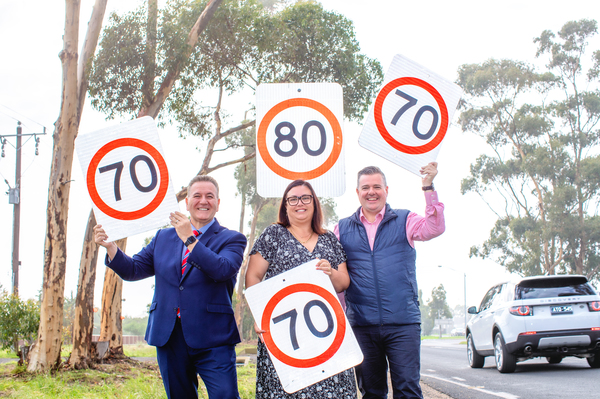 By Luke Voogt
The speed limit on three roads north of Geelong will drop 10km/h in a joint $3.6 million safety investment, council and state government have announced.
The limit will drop from 80km/h to 70km/h on McClelland Avenue, Heales Road and Avalon Road, which together have had several fatal and serious crashes in past 12 months.
The changes resulted from council's recent community consultation for its Lara Traffic Action Plan, deputy mayor Kylie Grzybek explained on Tuesday.
"The feedback from our community has been clear that safety improvements are needed along these roads, particularly as they become busier with our growing population," she said.
"Road safety is absolutely critical – we don't want to see anyone being injured or worse on our local roads."
Council successfully applied to Regional Roads Victoria (RRV) to reduce the speed limit, Cr Grzybek said.
"The council had a duty to respond to these requests and it's pleasing to see action being taken, with the support of the state government and RRV."
Council contributed $1.78 million for additional safety upgrades while state government matched the amount with a grant from its Fixing Country Roads program.
The majority, $3 million, would fund works to widen Anakie Road at Lovely Banks, and improve its drainage and sealing, council announced on Tuesday.
The amount would also fund the reconstruction of pavement along a 3.4km stretch of the road between Evans Road and Asher Road, according to City Hall.
The remainder of almost $600,000 would fund right turn lanes along McClelland Avenue at its intersections with Clover Street, Gum Drive and Austin Street-Abbey Drive, council said.
These works would also include pavement widening for turning lanes, guard fencing for trees and power poles, and improved drainage, council said.
The upgrade would make the "busy roads" safer and more consistent for heavy vehicles, residents and through traffic, according to council.
Signage for the speed limit changes would be in place by April, while the roadworks were due for completion by the end of June, council said.
Windermere ward councillor Anthony Aitken said he and Ms Grzybek delivered the project through a "strong partnership" with Lara MP John Eren.
"These significant investments and speed changes are a reflection of community concerns about the safety and quality of our roads in the north."
Mr Eren said he was pleased to announce the "important" safety upgrades alongside the two councillors.
"Road safety is paramount. I will continue to listen to the community when it comes to road safety."