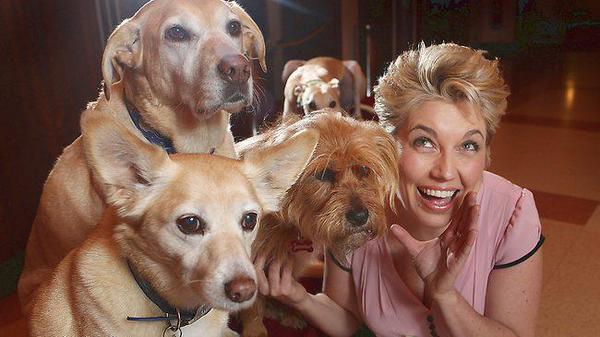 By Luke Voogt
Country singer Melinda Schneider is inviting Geelong pooches to a special 'pawdition' ahead of her tribute to dog-loving songstress Doris Day.
Schneider is searching for a four-legged friend to join her onstage in her first Geelong show since the legendary performer died last year.
"I'm looking for a dog that's fairly chilled, who I can walk onstage on a lead, looks at me lovingly and smiles at the audience," she said.
"The winner will receive two complimentary tickets to the show and a packet of Schmackos!
"It's a beautiful moment in the show and it will be very memorable for them."
Schneider will sing to the dog during A Farewell to Doris, which she brings to Geelong Arts Centre on March 7 as part of a national tour.
She began the tour last September at Sydney Opera House with a show featuring a 24-piece orchestra. Music legend Day died at age 97 in May.
"It's always sad to lose such an amazing idol – she outlived all her co-stars and four husbands," Schneider said.
"She's been a massive part of my life. I thought she'd live past 100 – she's a bit of a survivor, the old Doris."
Schneider had released several albums and won six Golden Guitars when she decided to do a Doris Day show about a decade ago.
"I always wanted to do a Doris Day tribute," she said.
"I had a pretty horrific divorce at the time – I think I needed a break from singing about myself."
Behind Day's publicly-happy girl-next-door exterior was "a lot of sadness and trying times that no one knew about", Schneider explained.
"I can relate to a lot of what she went through," she said.
"She didn't have much luck with choosing partners either.
"It took me kissing a few frogs before I met my beautiful partner Mark Gable, from Choir Boys."
When Schneider first developed the show she sent the script to Day as a professional courtesy.
Day was happy with the show, finding just one "problem" with the script, Schneider said.
"She read it and said, 'one thing I'd like you to change is my date of birth. I was born in 1924 not 1922'."
Ironically, a journalist dug up a birth certificate on Day's 95th birthday several years later showing she was in fact born in 1922.
A Farewell to Doris features 23 "incredible songs" and the stories of her life, according to Schneider.
"What I love about Doris's songs is the versatility – she did everything, from jazz and pop to musical theatre and big band extravaganzas," she said.
"And that's the thing I love about this show – it allows me to showcase my given vocal skills."
Schneider will choose the lucky dog who will accompany her onstage. Dogs must be obedient and be able to take direction.
No previous stage experience is required but they must be able to walk on stage, jump onto a chair and be sung to.
Owners who believe their canine is pooch-perfect for the show can email a picture and 25 words or less to management@melindaschneider.com by next Wednesday (March 4).