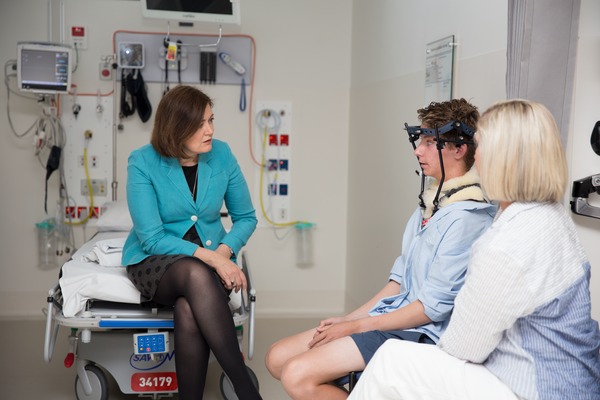 By Luke Voogt
Epworth Geelong has launched a campaign for Medicare coverage of its MRI scanner six months after a local identity predicted it would become a federal election issue.
Liberal Member for Corangamite Sarah Henderson "strongly backed" the campaign this week, with her government going to the polls no later than 18 May.
Her backing followed Hugo Armstrong telling the Indy in April that he expected the government to approve the MRI's Medicare rebates soon before the election as a vote-winner in Corangamite.
"It's so predictable and so sad," he said on Tuesday.
"It's pretty obvious why they've announced (the MRI campaign) now. This could've happened a long time ago when Epworth opened (in July 2016)."
Mr Armstrong hit out at the rebates delay after paying over $500 for a scan before urgent surgery earlier this year.
He was shocked the only scanner servicing outpatients in marginally-held Corangamite had no Medicare funding.
"I was able to afford the MRI but what about people who have put every cent they have into private health insurance?
"Thousands of patients have paid full whack for the only MRI in (Ms Henderson's) electorate."
Ms Henderson "strongly backed" Epworth's launch last Friday of a campaign for a full MRI licence.
"A Medicare-subsidised MRI will make such a difference to Corangamite residents," she said.
Epworth Geelong chief Damian Armour urged locals to support the application.
"Without (rebates), patients are faced with a decision to pay full fees or to travel off-site for essential diagnostic services," he said.
The family of Bellbrae teen Riley Taylor, who struck his head and cracked his helmet in cycling accident at Anglesea on 28 September, also joined the campaign.
An ambulance took the 14-year-old to Epworth Geelong where an MRI scan confirmed fractures to his back and neck.
"Riley is making a remarkable recovery thanks to his rapid diagnosis and clinical care," mother Kirby Taylor said.
"Parents should not have to weigh up diagnostic options based on affordability."
Epworth emergency medicine director Matthew Ryan said greater Geelong was "significantly underserviced" for MRI services compared to Bendigo, Ballarat and Warrnambool.
"I see patients daily where a licensed MRI would have made a major difference to their clinical care."
Riley's family had a difficult choice "between an expensive MRI scan and a cheaper scan" exposing him "to a significant radiation dose", Dr Ryan said.
"I find these cases difficult, both as a doctor and as a father."
Federal Government recently allocated $175 million for 30 subsidised MRI services across Australia, following a similar Labor pledge earlier this year.