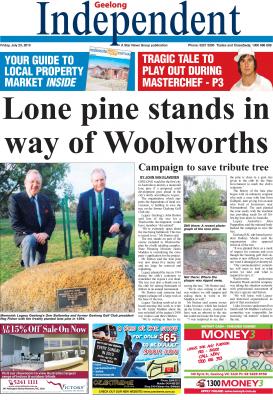 20 years ago
July 21, 2000
Undercurrents of political bias among Geelong councillors surfaced this week with claims Cr Ken Jarvis and Cr Allana Goldsworthy placed political allegiance before civic duties.
In a letter to The Independent, Cr Bill Aitken said the two councillors left last week's council meeting early to attend a function for former Geelong MP Anne Henderson.
15 years ago
July 22, 2005
Geelong West's Ritchie McGovern could have been forgiven for wanting to throw the towel in on life after losing both his legs in a work accident.
But all he wants is a motorcycle licence from VicRoads so he can start a new career.
10 years ago
July 23, 2010
Geelong would be the first city in Australia to destroy a memorial lone pine if a proposed retail development goes ahead in the city's north, according to Legacy.
The organisation, which supports the dependents of dead servicemen, is battling to save the tree on the former Geelong Golf Club site.
5 years ago
July 24, 2015
The median price of a vacant building block in Geelong has jumped alarmingly, according to a latest Housing Industry Association (HIA) residential land report.
The Barwon region's median land price is now $204,000, up from $179,000 two years ago.