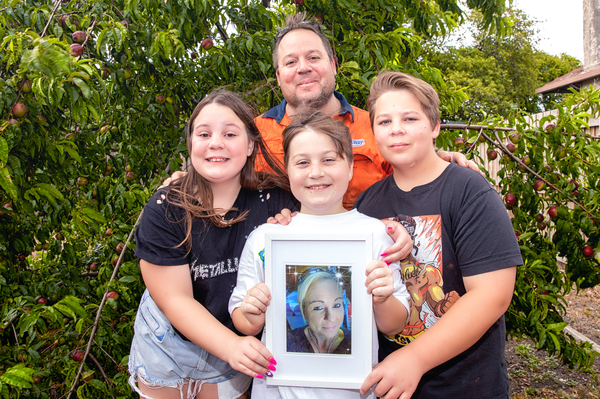 By Luke Voogt
The family of a North Geelong crash victim whose organ donation gave six people a "second chance" is urging locals to register as donors.
The call comes as an Independent analysis reveals donor registration in Geelong's north is just half the national average.
About 12 hours after Amanda Primmer died earlier this month doctors told her family her major organs had saved six recipients' lives, former partner Darren Camilleri explained.
"Knowing that her donation has helped others would have filled Amanda with happiness," he said.
He and Amanda raised "three beautiful children" in 11 years together before separating, and during that time a TV documentary inspired them to register, he said.
"She was pregnant with our firstborn Lachlan. We just looked at each other said there's no point going to our graves with all our organs."
Darren described Amanda as a "loving mother" who would give the shirt off her back for anyone, following her funeral last Friday.
Amanda's brother James Primmer was also "very proud" of his sister's donation, saying she "always had time for everybody".
James immediately registered as an organ donor after hearing how much his sister had helped.
"There are so many people waiting for a lung or heart transplant and their lives are slowly deteriorating," he said.
"The way I look at it, they aren't going to serve you in the afterlife."
While 69 per cent of Australians are willing to donate their organs when they die, less than half of that number are registered donors, according to DonateLife.
Australia's laws require citizens to 'opt in' to donate organs and James admits he had been one of millions happy to donate but yet to register.
"I sort of never thought about it," he said.
"But when something like this hits home, it puts you in this mind frame: 'yeah, I should have done this ages ago'."
Eighteen per cent of residents in Geelong's north are registered organ donors, compared to the Australian average of 33 per cent.
Darren's and Amanda's home postcodes of 3214 (Corio) and 3215 (North Geelong) have registration rates of 17 and 19 per cent respectively.
In the Independent's analysis of 251,147 Geelong and Bellarine residents, 23 per cent were registered in 2018, exceeding the Victorian average of 19 per cent.
Point Lonsdale and Queenscliff's ageing population had by far the highest registration rate of 37 per cent.
Ocean Grove had 29 per cent and while Geelong, Newtown and South Geelong had 28 per cent. For information on organ donation visit donatelife.gov.au.