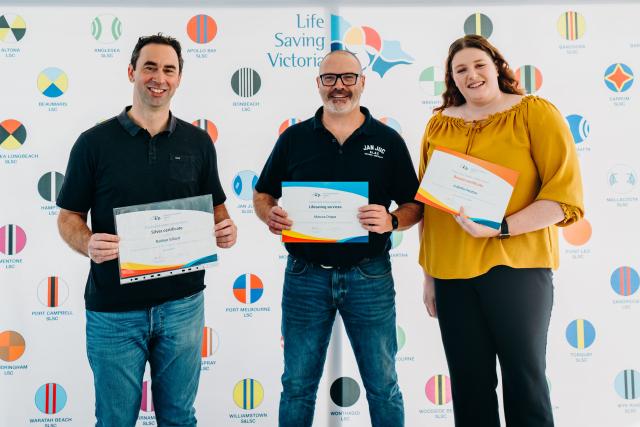 Life Saving Victoria (LSV) has recognised volunteer members from Geelong, Otway, Surf Coast and across western Victoria for their outstanding achievements in operations, club services, development, training and sports during season 2021-22 at a valuing volunteer event.
The celebration, which was one of three regional-based events across the state, took place
at Jan Juc Surf Life Saving Club on May 19 and was part of National Volunteer Week, an initiative by Volunteering Australia that recognises the invaluable contributions of volunteers across the country.
This included the gold, silver and bronze 100-plus patrol hours awards, which saw members recognised for the top 20 per cent (gold), 30 per cent (silver) and 50 per cent (bronze) of volunteer patrol contributions across the season.
Victoria's western clubs contributed 54,649 of the state's 169,164 patrol hours for the season, equating to 2227 days of patrolling the region's beaches.
Apollo Bay SLSC club captain, 22-year-old Calden Lyons was one of Victoria's volunteers recognised in the gold category for his outstanding contribution in season 2021-22.
"I am extremely proud to have contributed to my club and wider community, such as school bronze camps in season 2021-22," he said.
"For me, patrolling Apollo Bay each summer is a privilege, and it is so rewarding to work with so many brilliant people and give back to the community."
Mr Lyons' mother and sister Evelyn and Tielle were also recognised in the gold and bronze categories for their efforts between the flags this summer.
LSV acting president Adam Alsbury congratulated all the western Victorian winners and thanked them for their efforts this season.
"It was wonderful to come together and celebrate the exceptional efforts of our volunteers and to put on our valuing volunteers event at Jan Juc SLSC to say thank you to them all," he said.
"LSV's volunteers fill countless roles. From those in the red and yellow patrolling the beach, the people in administration working behind the scenes, the nipper instructors encouraging the volunteers of the future, to those flipping sausages on the barbecue every weekend, we couldn't save lives every summer without the collective efforts of every one of our 43,000-strong volunteer community.
"Although the winter marks a shift from active patrols for our lifesavers, many of them will continue their training, planning and involvement all year round, so we thank everyone for their continued dedication to lifesaving."
Western award winners:
Lifesaving services significant contribution:
Jack Kennedy, Ocean Grove
Marcus Dripps, Jan Juc
Anthony Hodder, Point Lonsdale
James Coutie, Point Lonsdale
Edward MacKay, Anglesea
Sebastiaan Top, Anglesea
James Carew, Lorne
Wayne Cartwright, Anglesea
Volunteer training significant contribution:
Phillip Hughes, Point Lonsdale
James Green, Mildura
Membership and leadership development
significant contribution:
Jamie Phillips, Lorne
James McGlashan, Lorne
Celina Matlock, Fairhaven
Liam O'Callaghan, Fairhaven
Laura Buckley, Fairhaven
Jessica Robinson, Point Lonsdale
Samuel Dripps, Jan Juc
Isabel Greer, Ocean Grove
Aquatic sports significant contribution:
Warren Clarke, Anglesea
John Clinch, Ocean Grove
Bernardus Homburg, Anglesea
Bruce Honey, Ocean Grove
David Pavia, Ocean Grove
Maurice McCutcheon, Fairhaven
Matthew Wood, Warrnambool
Samuel Ranson, Barwon Heads 13th Beach
100+ patrol hours – gold:
Awarded to 13 Geelong, Otway, Surf Coast and Western members.
100+ patrol hours – silver:
Awarded to eight Geelong, Otway, Surf Coast and Western members.
100+ patrol hours – bronze:
Awarded to 18 Geelong, Otway, Surf Coast and Western members.