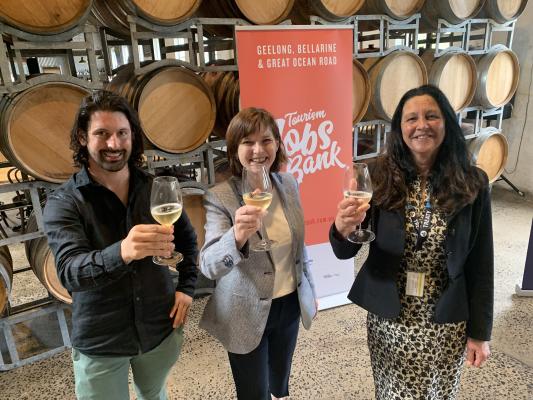 Ash Bolt
Hospitality and tourism businesses in Geelong, Bellarine and along the Great Ocean Road will be given a boost to find workers over the peak summer period through a new state government job-matching pilot program.
Regional development minister Mary-Anne Thomas visited Fyansford's Provenance Wines on Thursday to launch the Tourism Jobs Bank, a trial program designed to link workers with jobs over the peak season.
The program has been supported with a $400,000 investment from the government's Regional Recovery Fund.
Ms Thomas said demand for hospitality workers in the Barwon region during summer was always high, but securing staff had been more difficult with the pandemic closing the border to international backpackers.
"We're looking to link employers with the jobseekers they need – whether that is baristas, bar staff or beauticians – supporting a successful summer season for the region's vibrant tourism sector," she said.
"The Tourism Jobs Bank will support businesses and it will be a boon for workers looking for rewarding work and to build their skills."
The Tourism Jobs Bank will help the region's tourism and hospitality businesses find skilled staff and offer training to ensure staff have a wide range of skills and can support businesses with payroll and staff management systems.
Geelong-based employment agency Direct Recruitment is a partner in the pilot and will use the jobs bank to match employers with candidates.
Great Ocean Road Regional Tourism and Tourism Greater Geelong and The Bellarine are also partnering with the state government to deliver the program.
Geelong MP Christine Couzens said the program would help ease the burden on businesses who are expecting a big summer as Victoria meets its vaccination targets and restrictions on travel lift.
"As the state opens up we know a lot of people will flock to our beautiful part of the world, which is great for business but brings with it workforce challenges," she said.
"This trial is a great initiative to lighten the load for businesses that need staff for the summer peak and it will create great opportunities for Victorians looking for work."
Great Ocean Road Regional Tourism general manager Liz Price said the program was about taking pressure off business.
"We want to take the recruitment pressure off employers, lifting that weight from their shoulders so they can focus on getting their businesses back to full speed," she said.
"Our region is a great place to live and work and is easily accessible from Melbourne, Ballarat, and western Victorian towns.
"We are also keen to attract locals and those that come just for the summer to think about earning some extra cash this season and working in the sector. "
The pilot project will include a digital and regional marketing campaign targeting tourism and hospitality businesses in need of summer staff and a wide range of jobseekers interested in finding work in the region.
Details: tourismjobsbank.com.au.