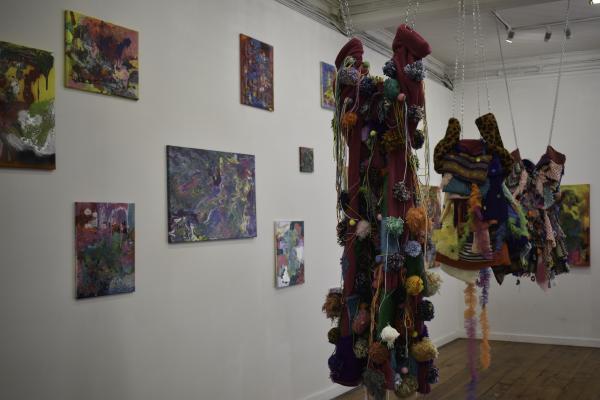 With restrictions easing, The Hue and Cry Collective is reopening its doors to the public tonight, with a brand new fully immersive exhibition.
The community art gallery has been closed in recent weeks, but will reopen with Geelong-based Finnish-Australian artist, Emily Rastas' first solo exhibition, 'FEEL/HEAL'.
The exhibition, which features a fully immersive sensory room art installation, along with sculptures, fashion design and paintings, will transform the gallery into a "kaleidoscopic dreamscape" until November 25.
Ms Rastas said the exhibition focused on tactile stimulation and the healing potential inherent to both the creative process and the immersive encounter of art.
The tactile process of stitching, threading, and layering of fabric involved in making wearable art informed her approach to painting and sculpture, where the
application of colour, texture, and form, help in alleviating anxiety, enabling personal and situational coping.
The artworks are arranged according to a thematic structure that moves through the five phases of personal growth – denial, acceptance, gathering, experimentation, and creation.
At the heart of the exhibition is the 'Pelispace,' a sensory room that is designed to stimulate all of the senses.
"I wanted to construct a multi-sensory environment that would cuddle me like a soft blanket – a mirrored room that would allow me to see myself in a myriad of colourful ways. To see, hear, touch, smell and taste serenity, joy, calm and reassurance," Ms Rastas said.
"My lived experience with anxiety and chronic pain resulted in months of immobility, forcing me to self reflect; accepting past traumas and mistakes, learning, understanding and changing thought patterns and behaviours."
Ms Rastas said she wanted visitors to her exhibition to "please touch the art and allow yourself to be touched by the art".
"Even if bright colours are not your cup of tea, I invite you to indulge your other senses in an immersive experience with a healing touch," she said.
The exhibition will open with an event at the Ryrie Street gallery from 6-9pm tonight.