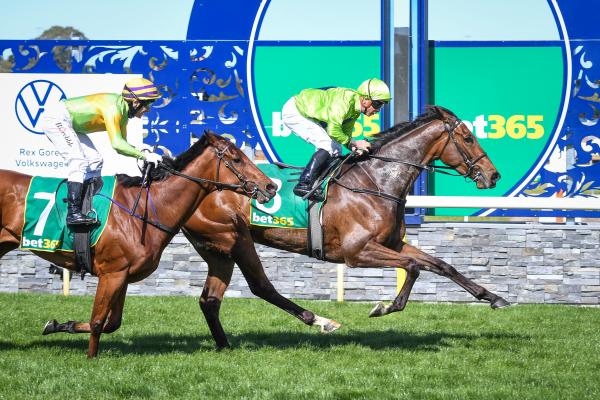 Ash Bolt
There were no crowds to witness Geelong's biggest day in the racing calendar as a locally-owned mare claimed the Geelong Cup on Wednesday.
The Symon Wilde-trained Tralee Rose, who was ridden by Dean Holland, took out the Group 3 race by half a length over Dr Drill.
Focus will now turn to the Melbourne Cup in two weeks, with Tralee Rose guaranteed a place in the race.
Wilde said after the race he believed Tralee Rose was a "genuine" chance to take out the Melbourne Cup.
The five-year-old mare is part-owned by a group of former St Joseph's College alumni, who had to settle for watching the Geelong Cup win from the Cremorne Hotel.
Geelong Racing Club chief executive Luke Rayner said it was the highlight of the day to see a local horse claim the Cup.
"It's a really good story for the connections of Tralee Rose, who is trained in Warrnambool and part-owned by a group of people in Geelong," he said.
"For the club, we're excited to see another Geelong Cup winner in the Melbourne Cup and we'll get right behind her and hope she goes all the way."
Rayner said it was surreal to have an empty track on Wednesday for the second year in a row, but otherwise "it couldn't have been a better day".
"It's a surreal feeling to not have a crowd, particularly with the weather the way it was, we probably would have had a bumper crowd," he said.
"Unfortunately there was nothing we could do about it, that's just the way things are, so we were only allowed to have skeleton staff and participants at the track.
"But in terms of the track and the racing side of the day, it couldn't have gone any better.
"[Track manager] Jimmy Dalton and his team did a great job to have the track in great condition … and it led to a competitive day of racing.
"All in all it was a great day and we're looking forward to welcoming crowds back from November 6 for our steady stream of races over the summer period."