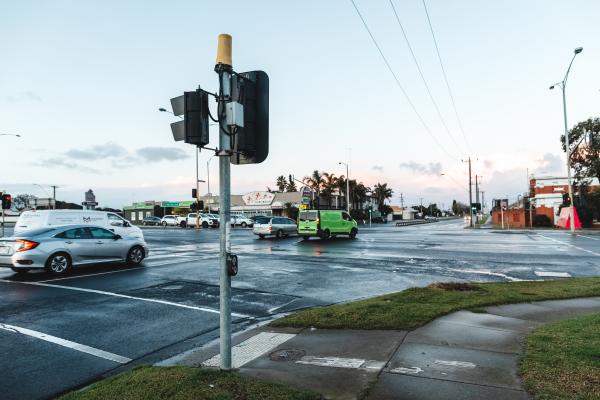 By Luke Voogt
"Black spot" intersections in Norlane and Manifold Heights will each receive million-dollar upgrades in a bid to prevent crashes, federal government announced on Wednesday.
The Princes Highway and North Shore Road intersection at Norlane will receive $1.1 million to improve slip lanes, turning lanes and pedestrian access.
Another $1.03 million will go towards improving the roundabout, lighting and line-marking at the intersection of Autumn Street and Minerva Road at Manifold Heights.
A further $185,000 will fund splitter islands and new lighting at the Wilsons Road and Westmorland Street intersection at St Albans Park, a total of $2.3 million for the Corio electorate.
In the neighbouring seat of Corangamite, $1.67 million will go toward installing a guard fence and widening road shoulders and pavement on Cape Otway Road between Considines Road and Hendy Main Road at Moriac.
Another $638,000 will fund wombat crossings – elevated zebra crossings, improved signage and line-marking on all approaches to the Barwarre Road and Marshalltown Road intersection at Marshall.
West of Geelong, $301,000 will fund a new safety barrier with a motorcycle rub rail and solar-powered vehicle-activated flashing warning signs near the bridge at Meredith-Steiglitz Road and Pioneer Ridge Road, Meredith.
This equals a total of $2.61 million in funding for the marginal seat of Corangamite.
The six projects received funding in federal government's 2021-22 Black Spot Program, aimed at reducing crash risk and improving safety.
"Road crashes place major emotional and economic strains on all affected communities but particularly the families and friends of the victims," federal senator for Victoria Sarah Henderson said.
"With road safety such a vital issue for our region, I encourage all residents and motorists to nominate projects for future funding rounds."
Deputy Prime Minister and Infrastructure, Transport and Regional Development Minister Barnaby Joyce said the Black Spot Program targeted road locations with a history or risk of crashes.
Safety upgrades funded under the program so far had reduced crashes causing injury and death at these sites by about 30 per cent, Mr Joyce said.
To nominate a black spot, visit investment.infrastructure.gov.au/funding/blackspots.