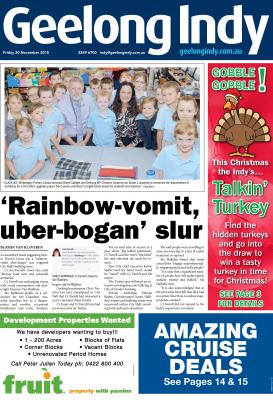 20 years ago
November 17, 2000
Geelong hospital has introduced strict new limits on hospital stays, forcing new mothers out after as little as two days, Member for South Barwon Alister Paterson told state parliament yesterday.
Mothers having undergone caesarean sections have to leave after four days under the new limits.
15 years ago
November 18, 2005
The Bracks Government and the Liberal Party drew up battleplans for six Geelong seats yesterday as state parliament sat at Deakin University.
Victorian voters go to the polls a year from next Friday.
10 years ago
November 19, 2010
"Overwhelming" demand is forcing Geelong support services to turn away children seeking help with domestic violence, according to a provider.
Glastonbury Child and Family Services chief executive Gabrielle Nagle said the service was unable to cope with the amount of children desperate for help.
5 years ago
November 20, 2015
A councillor's tweet suggesting Mayor Darryn Lyons was a "rainbow vomit uber-bogan" has reignited City Hall's bullying issue.
Cr Jan Farrell's tweet also said: "Beware loud suits and colourful mohawks".