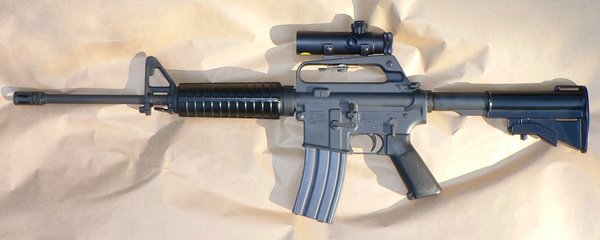 By Luke Voogt
A man police caught smuggling "mass killing machines" in a Clifton Springs sting will serve almost double his original minimum sentence following a recent appeal.
Officers arrested Paul Robert Munro, 65, on 30 August, 2016, after he attempted to sell a Thureon automatic assault rifle to a covert police operative.
County Court initially sentenced Munro to 10 years and three months jail with a non-parole period of six years.
The assault rifles Munro had been smuggling could fire up to 1000 rounds per minute, Judge Douglass Trapnell noted in the initial sentencing last May.
"The Thureon in full automatic mode is a truly terrifying weapon; a piece of military hardware clearly designed to kill humans in great numbers," he said.
"It has no use other than as a mass killing machine and it has no legitimate place in civil society."
But Supreme Court justices Paul Maxwell, David Beach and Stephen McLeish last week resentenced Munro to 15 years jail, with a non-parole period of 11 years, during an appeal by the public prosecutor.
"Munro engaged in persistent, planned, sophisticated offending to bring into Australia mass killing machines," their Court of Appeal judgement read.
"The only purpose of which was their use in the threatened or actual taking of human life in the course of criminal activity."
The sting in a Clifton Springs car park ended a two-year international investigation to stop Munro's smuggling operation.
The investigation began after police seized a Thureon AR-15 in April 2014, the first of three seizures including one from an armed robbery at a western Melbourne McDonalds in 2015.
Munro began smuggling unassembled firearms into Australia in March 2013 after meeting the owner of Thureon, Andy Huebschmann, at a Nevada outdoor show months earlier.
In 2016 US agents interviewed Huebschmann who admitted he was preparing 96 semiautomatic handguns and six assault rifles to send to Australia.
Victoria police began intercepting Munro's phone calls and a covert operative met him at a hotel in Swan Hill on 4 August, 2016.
Following a series of meetings and calls, Munro attempted to sell an assault rifle, borrowed from a Whittington associate, to the operative at Clifton Springs, the court heard.
A lawyer acting for Munro during the appeal said imprisonment would take a toll on his client due to his hypertension.
But the public prosecutor argued Munro was aware the weapons had been used in criminal activity and the justices upheld the appeal as a deterrent to other gun traffickers.
Munro has served more than 600 days of his sentence to date.