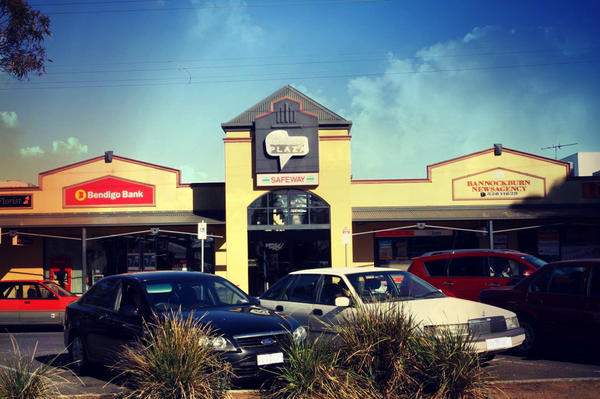 by Luke Voogt
A redevelopment of Bannockburn Country Plaza is set to go ahead despite an appeal by a small group of residents opposing its design.
Victorian Civil and Administrative Tribunal (VCAT) last Thursday confirmed Golden Plains Shire's permit for the shopping complex revamp following a three-day hearing.
"We are pleased that VCAT has confirmed this decision," Mayor Owen Sharkey said.
"Now it's over to the developers to progress the next stages of the redevelopment and we look forward to construction starting soon."
The shire "carefully considered" the redevelopment before approving the planning permit last October, Cr Sharkey said.
He said Bannockburn's population was growing by 8.5 per cent each year and that the multi-million dollar revamp would revitalise retail in the town.
The proposal would create jobs, entice residents to shop locally and draw shoppers from nearby towns, he said.
"Local businesses are the heart of our economy and the new supermarket will attract more customers that will hopefully spend time and money with our small businesses in downtown Bannockburn."
Leanne Adams and three other Bannockburn residents appealed the designs at VCAT saying they impacted pedestrian and vehicle access.
The designs also failed to reflect neighbourhood character and overshadowed nearby properties, according to the objectors.
The shire developed a strategy for Bannockburn's town centre several years ago with extensive community consultation, Ms Adams said.
While she supported developing the complex, the latest plans failed to meet several objectives of that strategy, she explained.
But she welcomed VCAT amending the permit to increase the redevelopment's setback from nearby Victor St.
"That being pushed back is a win for the residents in particular," she said.
VCAT made several other minor amendments to the planning permit during the hearing.
But the amendments failed to resolve the design's potential for traffic chaos, according to Golden Plains Shire councillor David Evans, who voted against the permit in 2018.
"The latest (designs) in my opinion as an engineer create a traffic nightmare," he said.
A previous concept put forward for the centre was "far better in terms of traffic management", Cr Evans said.
But he agreed developing the complex was important for Bannockburn as the town was set to grow to 20,000 people "in 30 years".
Nardi Holdings lodged the application for the planning permit in October 2017.
The shire approved a similar planning permit in 2011 but the plaza owner did not act upon it.