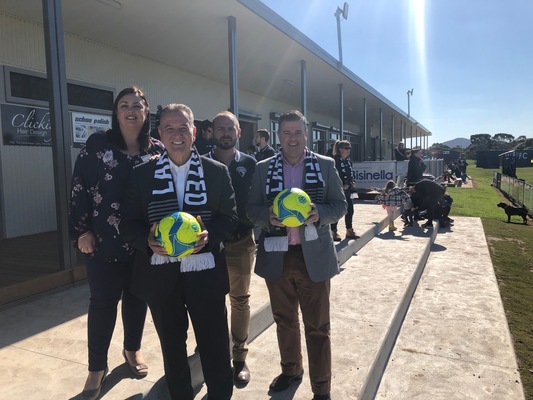 New female-friendly change rooms opened at Lara United Football Club on Saturday following almost $1 million in council and government grants.
Geelong's council contributed $850,000 to the upgrade for Lara United, which has more than 260 soccer players from MiniRoo to seniors.
The new facilities would make Lara United an "even better" place to play, especially for women and girls, according to Windermere ward councillor Kylie Grzybek.
"The club had been finding it impossible to fit everyone in, with some teams having to change in the car park," the Lara local said.
"They now have enough space for two matches to be played at the same time, with girls and boys able to play side-by-side and change separately in modern, comfortable facilities."
The upgrade includes new female-friendly change rooms, a kitchen, social space and first aid room.
Fellow Windermere ward councillor Anthony Aitken congratulated Lara United's committee on its persistence in making the project a reality.
"Lara United is a fantastic sporting club in our north that's leading the way in encouraging participation among all members of our community regardless of gender or ability," he said.
"Council is pleased to help the growth of a non-traditional but increasingly popular sport in this country such as soccer, and these facilities also meet our strategic aim of improving access for females to participate."
Both councillors thanked the Victorian Government, which chipped in another $100,000 for the upgrade through its Change our Game fund.