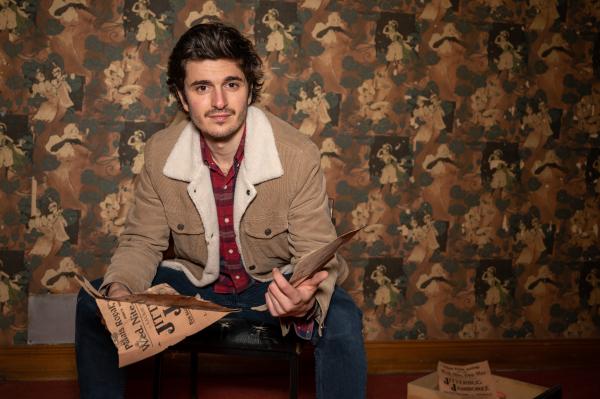 Globe-trotting actor Rob Tripolino was a regular performer at The Palais Geelong when his dad Frank ran the venue as a bingo hall.
He speaks to Luke Voogt about his dad's soon-to-be-realised dream to restore the almost century-old icon to its former glory.
Tap-dancing at age eight for bingo players at The Palais Geelong was one of Rob Tripolino's earliest performances on the path to becoming an actor on London's West End.
"I think it was a tap dance to Puttin' on the Ritz," the 30-year-old said.
"Before the bingo session would begin there would always be some sort of entertainment.
"It was quite bizarre really – it was like the pre-game entertainment, but for a game of bingo."
Rob was a regular on a long list of pre-game singers, bands and entertainers at The Palais, owned by dad Frank.
"I would be singing at one point and then I'd run up to the caller's box and call bingo," he said.
Calling numbers for the players, many elderly, and the art of bingo puns, would one day serve Rob well in his globe-trotting musical theatre career.
"Calling bingo is great for one's diction," he laughed.
"If they don't hear you and they're playing for big bucks, you're going to cop it!"
While The Palais had been functioning as a bingo hall since the '80s, Frank had always had a vision to return to its artistic roots, according to Rob.
"The bingo was the stream of income the building needed to refurbish itself and become a safer and literally sturdier building," he explained.
"I love the memory of dad building a small stage just below the caller's box when it was a bingo centre.
"That was a nod to the bigger picture – that this will one day be a place of the arts again."
The Palais began life as the Joy Ark movie theatre before it was demolished and rebuilt on Moorabool Street in 1926.
The then Palais Royal was used as a cinema, a theatre and a dance hall where generations of Geelong couples met.
Before becoming a bingo hall, The Palais hosted pageants, major events and big-name concerts for the likes of INXS, Motorhead and more, according to Rob.
Frank bought The Palais in 1997, after migrating from Calabria to Geelong with his family in the late 1950s when he was eight.
He continued the venue's use as a bingo hall.
"It was the easiest thing to do at the time, put some tables and chairs out," Rob said.
"They didn't just come for the game – some came for the nostalgia.
"People would talk about when they met their husband or late partner 50 years ago, or saw John Farnham, at The Palais."
An accountant by trade, Frank has always loved the arts, according to Rob.
"He loves playing music," he said.
That love of arts rubbed off on Frank's children, especially Rob.
"We've all dabbled in the arts but I was the only one that managed to keep making a crust out of it," he said.
"It's really worked in my favour as the only entertainer in a family of accountants.
"My parents put me through ballet classes at age four, simply because it was down the road."
After years studying classical ballet, Rob auditioned for the Australian Ballet School in his final years of high school.
But the prestigious academy rejected him.
"I was absolutely heartbroken," he said.
Luckily, his drama teacher offered him different pathway: into the world of musical theatre.
"He said, 'You can already sing and dance'," Rob said.
"'You just have to learn to act, but I can help you there'."
Rob got into Victorian College of the Arts, and went on to act in major productions at venues including Sydney Opera House, tour Australia and, later, perform on London's West End.
"Just as I came back to Australia to visit my family, COVID-19 hit," he said.
By that time The Palais had been "completely dark for four years" after the last game of bingo in February 2016, with electronic gaming drawing players away, Rob said.
"The building was ready to fall over.
"Certain walls needed to be completely rebuilt. The bathrooms were not up to standard. It needed so much love and work."
Frank had put the building up for sale in 2017.
"We very nearly just went, 'we don't want to do this anymore'," Rob said.
"Then we decided to make something of it and turn it into the theatre it deserves to be, again."
With COVID-19 plaguing the world, and Rob unable to return to London and continue his theatre career, he decided to join his brothers and dad in redeveloping The Palais.
"A battle plan had to be made," he said.
"Let's put all my energy into the Palais and get it going."
He used his connections in the Australian theatre industry to enlist top professionals out of work due to COVID-19.
Their expertise on the revamp and restoration was a silver lining of the pandemic, Rob said.
Projects such as simply raising the light trusses had already restored some of The Palais' former grandeur, he said.
"Lighting's one of those big factors for actors feeling like, 'wow, we're in a performance space now'."
Last year workers peeled back the old bingo carpet, which over decades had protected the "beautiful" parquetry floor from all but "a little of bit of termite action" over the decades, Rob said.
They then restored and revarnished the almost century-old wooden floor.
"It looks stunning," Rob said.
"That was where bands played and people danced."
Next Saturday, June 26, Rob will again take centre stage at The Palais as the producer of House of Dreams, which throws the venue's doors open again.
Visitors will hear the echoes of bands from days past, as they traverse up the stairs and across the parquetry floor.
Co-produced by Mia Morrissey, with choreographer Zoee Marsh and filmmaker Jackson Bews, the "memory project" shares the stories of those who worked, played, danced and met partners at The Palais.
The project, supported by a council COVID-19 art grants program, is based on interviews of locals who were part of The Palais' "tapestry" from the '50s to '80s.
Rob also hopes to show visitors a glimpse of The Palais' future and the vision of Frank, who recently turned 70 but shuns the spotlight.
"The theatre is a real grand representation of how he feels about the arts – he wants to see it thrive," he said.
"This has always been the vision of my father that it would one day be a place to nurture artists in Geelong. We couldn't do that, if not for the bingo."
Details: palaisgeelong.com