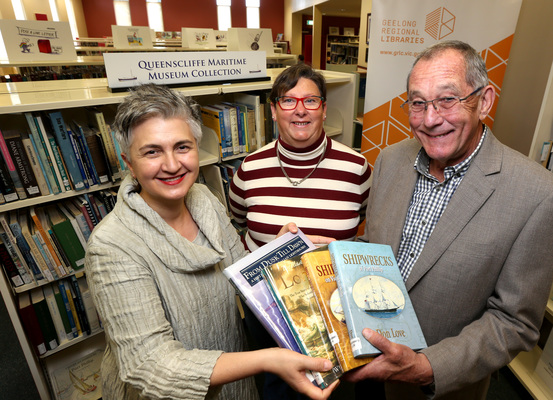 Over 1800 books documenting the region's rich maritime heritage will be available to more readers than ever under a new partnership, according to its signatories.
Queenscliffe Maritime Museum will share its collection with Geelong Regional Libraries for the first time after launching the partnership during History Week 2018, which concluded on Sunday.
Queenscliff Library made the collection's "highlights" available after officially opening a dedicated maritime heritage section last week.
The entire collection would "eventually" be fully integrated into Geelong Regional Libraries' online catalogue, the service said.
"The collection has been developed by the museum over many decades and includes a range of titles on a variety of subjects including lighthouses, shipwrecks, shipping, lifeboats, maritime heritage and boat building."
Geelong Regional Libraries board chair Ron Nelson said the project was "evidence of the power of community partnerships".
"Geelong Regional Libraries is delighted to have partnered with the Queenscliffe Maritime Museum on this project to enable greater public access to this collection, which will be of particular interest to many in the local community," Cr Nelson said.
"It is wonderful to be able to share and celebrate this valuable history with our library users."
Musuem president John Barrett hoped the partnership could provide a "model for other volunteer-based organisations to replicate".
"This innovative arrangement benefits both parties, as well as the broader public, and could act as a model for other organisations which hold small or specialist collections," Mr Barrett said.
"From the Museum's perspective, it has allowed our small, volunteer-based organisation to benefit from the resources and skills at Geelong Regional Libraries without losing control of the collection."
Borough of Queenscliffe councillor and libraries board member Ross Ebbels welcomed the partnership was a boost for the municipality's "cultural life".
"Both the Queenscliff Library and the Queenscliffe Maritime Museum are great cultural assets for the local community," he said.
"By bringing together the resources and skills at both organisations we have achieved a great result for local people now and into the future."