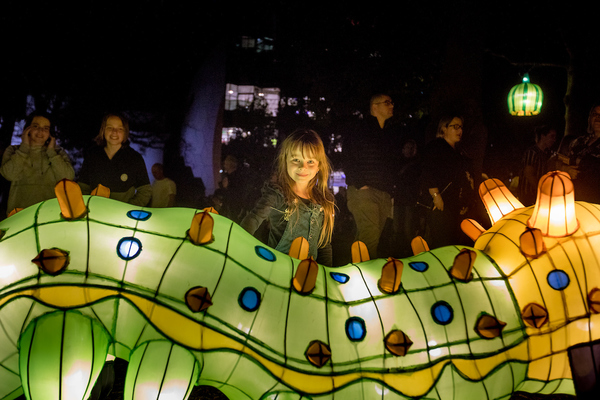 Geelong MPs and council have lauded the city's first White Night for "captivating" 70,000 revellers with rooftop music, projections and brightly-lit buildings.
The night featured more than 50 projections, installations, performances, exhibitions and live music acts in Geelong streets, laneways and parks.
Major Events Minister John Eren described the night as a "perfect" finale to the White Night program, which 800,000 people attended in Melbourne and regional cities.
"The series of White Nights across Melbourne, Ballarat, Bendigo and now Geelong have driven visitation, filling hotels, bars and restaurants," he said.
"They've showcased the best of each location in creative and exciting ways and we're already looking forward to 2019."
The crowds watched as mermaids appeared on yachts sails on Corio Bay, robotic angels walked the streets and colourful projections covered Geelong's iconic buildings.
A projection on City Hall, The Armistice – Victoria Remembers, honoured the fallen ahead of the centenary of the end of World War I on 11 November.
Local performers played on four stages, while Garage Band 1 rocked Gheringhap Street from the roof of Busport Carpark with a 6m spaceman behind them.
White Night artistic director David Atkins congratulated local artists for their tributes to Geelong's waterfront and maritime history, and creating a family-friendly night.
"The artists and performers in Geelong delivered an exceptional display that had audiences captivated throughout the evening," he said.
Geelong Mayor Bruce Harwood showcased the city to Malaysian media and Air Asia delegations as central Geelong came "to life in spectacular fashion".
"White Night provided an incredible opportunity to showcase what our city is all about,'' he said.