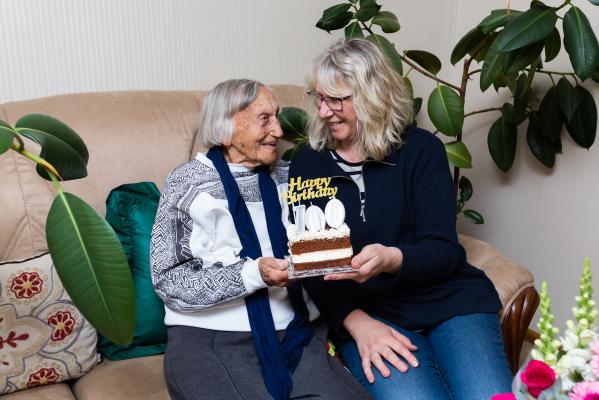 By Luke Voogt
Meta Schameitat was born 100 years and a day ago in a country that no longer exists.
The Geelong great-grandmother celebrated the century milestone yesterday after surviving World War II and fleeing Germany as the Russians took over.
"I'm still here!" she told the Independent.
Meta was born on September 16, 1921, in Memelland, a part of East Prussia that became autonomous following World War I, until Lithuania took over in 1923.
She grew up in a small village with no electricity, using kerosene lamps at night, and her mother, a World War I widow, raised her, her two older brothers and, later, an adopted sister, alone.
In the early 1940s, Meta, her husband and then three-year-old daughter Edita were forced into refugee camps in western Germany, where they spent several years during World War II.
They left on wagon trains in the winter of 1945, as "the Russians came" before sailing to Australia.
After a several years in country Victoria and NSW they moved Queenscliff and later Geelong.
Meta raised Edita as a single mother after separating from her husband in 1955 and worked for decades at the Federal Mills in North Geelong.
She credits a healthy diet and a spoonful of fish oil a day for the past three decades – long before it became fashionable – for her longevity.
"I still do my cooking," she said.
"I started young – I've been cooking for more than 90 years."
Although, with only a little vision remaining in her left eye, she needs help from time to time with cooking, cleaning and other daily tasks.
She lives at home with a support package from Australian Multicultural Community Services.
"I find it difficult to cut the potatoes and vegetables," she said.
She told the Independent she would be happy to pass away peacefully at night after a long and fulfilling life.
"But every morning I wake up and thank the Lord I'm here," she added.
And her family keeps her going too, even though COVID-19 has limited their ability to visit.
"I'm so happy when I see my family and friends," she said.
Meta is also an avid green thumb, according to granddaughter Julia Dunscombe.
"What has kept her going is her garden," Julia said.
"Her whole life she has been pottering in the garden.
"I think it's quite a feat for her to reach 100 – she's fiercely independent and she's worked hard all her life.
"To see the changes she has and go through war, coming from peasant life to the world we live in today – it's amazing. She's no good with technology, mind you."