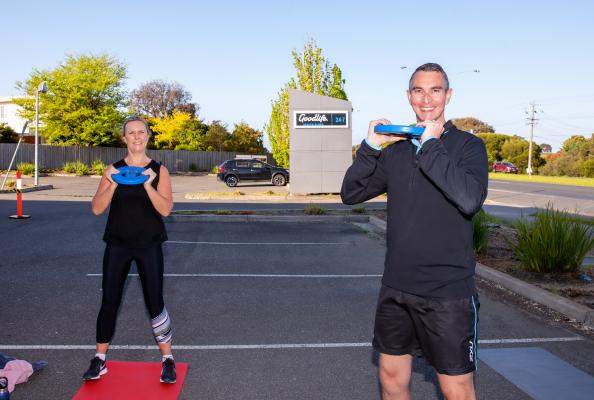 By Luke Voogt
A Belmont carpark workout raising money for Beyond Blue was among scores of creative outdoor gym activities across Geelong this week amid COVID-19 restrictions.
Ben Webster joined gym managers across the city striving to keep their clientele fit outdoors, with indoor sessions still prohibited.
"I think it's great to see so many different businesses adapt to change," Ben said.
"You can sit down and say, 'why me?' or you can say, 'how can I make this work for me?'
"There are businesses adding things that will probably be around for a long time after the restrictions lift."
The Goodlife Health Club Geelong general manager is running 11 sessions a week for his members and donating all proceeds to mental health charity Beyond Blue.
"It's been a tough time for everyone and we thought a lot of people would be using [Beyond Blue's services]," he said.
"We've been running it for a month now. We wanted to get onto it as quickly as possible and had a lot of members wanting to do it."
On Tuesday afternoon Ben joined members in the carpark for a bodyweight-based 'fat burner' class.
"We don't want to go too hard because we know that everyone's a bit deconditioned," he said.
The 37-year-old has been in the fitness industry for 11 years.
"I was a member just to get my fitness up and then I wanted to change careers so I became a personal trainer," he said.
Ben ran online sessions for his staff and members during the lockdowns but said he had missed seeing them face-to-face.
"We have a really great group of members and staff. Talking to people and helping them get their goals has probably been the biggest thing I've missed."