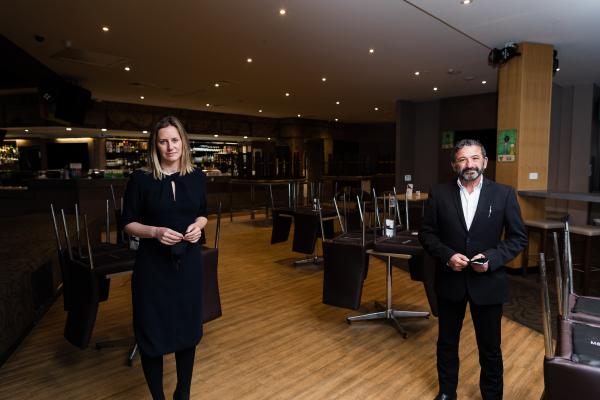 By Luke Voogt
A Geelong publican has pledged to enact a "no jab, no entry" policy amid opposition calls to increase patron limits for larger venues.
"I'm happy to put the policy in place: no jab, no entry," Sphinx Hotel owner George Ramia said on Tuesday.
"I know I'm going to get a lot of feedback on social media by saying that, but I don't care. I just want this place running viably."
Mr Ramia voiced his frustration that his 1010-person capacity venue could only have 10 people inside at a time under current restrictions.
"I hurts me to know that COVID hasn't been that bad in Geelong – at the moment it's under control – yet we are faced with all these restrictions knowing full well we have the facility to operate with a lot more people safely," he said.
"We can put up with masks, the sanitisers, the staff checks – but to operate with 10 [customers] is a joke.
"At the moment our staff are probably our most important thing.
"They're currently on the relief payments but they are able to work certain hours to top up their pay from that.
"We are unfortunate that we have lost [staff] seeking employment in other areas that are more secure [amid COVID-19]."
Opposition gaming and liquor regulation spokesperson Steph Ryan visited the North Geelong pub calling on state government to reinstate density limits, rather patron caps in regional Victoria.
"This is the eighth set of rules for hospitality businesses, who have again had the rug pulled out from underneath them," Ms Ryan said.
"Pubs, clubs and restaurants had hoped for a sensible easing of restrictions to return to density limits of one person per four square metres, not draconian patron limits so low they have stopped most venues from reopening."
But a state government spokesperson said the restrictions were based on public health advice.
"We constantly review restrictions across all industries and any future decisions will be made on the same basis," the spokesperson said.
"Hotels are eligible for the Licensed Hospitality Venue Fund if they hold the appropriate liquor licence and food certificate and many, including the Sphinx, have received payments from the fund."