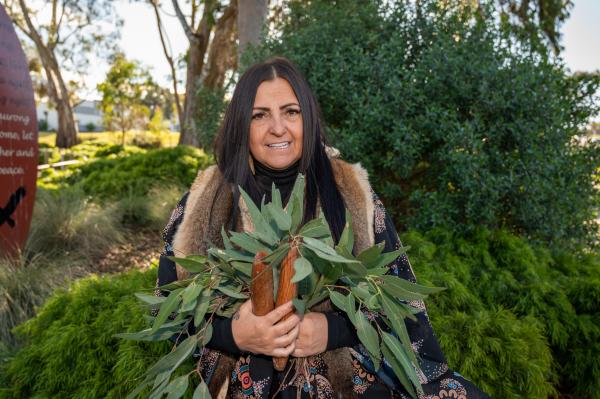 Drinking fountains paying tribute to Geelong's Indigenous history have opened at Deakin University in a bid to "quench students, staff and visitors' thirst for knowledge".
Wadawurrung artists Billy-Jay O'Toole and Corrina Eccles designed the artwork on 23 new fountains, along with redecorating another 12.
Their designs tell the story Geelong's Indigenous culture and history, with Deakin vice-chancellor Iain Martin opening the facilities following Welcome to Country and smoking ceremonies on Monday.
"The art and inscriptions on the new water fountains are designed to facilitate storytelling and an understanding and appreciation of traditional owner culture and history," Professor Martin said.
"The fountains are a wonderful way to teach, inspire and raise awareness of Wadawurrung values while also expressing our gratitude and thanks to the traditional custodians for nurturing and caring for country, which sustains us all."
"Aside from being beautiful and educational, the water fountains are perfect for filling re-usable water bottles, which reduces the need for having to purchase single-use plastic bottles and reduces the amount of waste generated on campus.
"This will also bring the university one step closer to realising its goal of achieving zero waste by 2030; a target that aligns with the United Nations' sustainable development goals."
Victorian Parliamentary Secretary for Water Harriet Shing and Barwon Water chair Jo Plummer joined the official opening ceremony.
"Aboriginal and Torres Strait Islander peoples are the traditional owners of the land on which we live and work," Ms Shing said.
"They have a strong connection to water as it forms a vital part of their life and culture."
The fountains are a joint project between Deakin University, Barwon Water and Wadawurrung Traditional Owners.