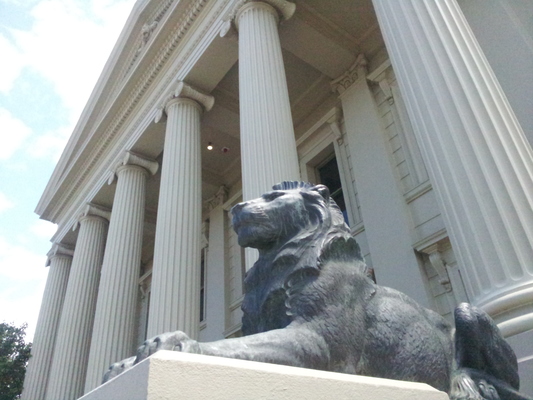 By Luke Voogt
Pools, theatres, museums, markets and council-run community centres closed across Geelong today as Victoria's latest lockdown came into effect.
Prior to the lockdown yesterday council announced its leisure and customer service centres along with Belmont Market, Geelong Carousel, the Potato Shed, the National Wool Museum and The fOrT would close for the duration of the five-day snap lockdown.
"It is very tough to be placed in lockdown again, and once again we are feeling for the businesses and workers impacted, along with everyone who'll be in isolation over the coming days," Geelong mayor Stephanie Asher said.
Council will keep its childcare centres open for parents working in essential services outside their homes, in line with Victoria's new restrictions.
The council announcement comes as Victoria recorded six new cases yesterday, with another four already reported that day.
All 10 cases are linked to current outbreaks, with 33,129 Victorians getting tested yesterday, according to the Department of Health. Victoria currently has 36 active cases.
Three members of a Barwon Heads family were confirmed as positive cases earlier this week after the father interacted with a positive case related to the Ariele Apartments outbreak in Melbourne.
According to department, one of the latest confirmed cases is a pupil at Barwon Heads Primary School who attended on Monday, Tuesday, and Wednesday.
The school was identified as a tier one exposure site and closed for cleaning.
Barwon Heads Village Park was also listed as tier one exposure site after one of the cases attended football training on Monday from 4.30pm to 6pm.
Players and coaches must get tested immediately and quarantine for 14 days, while spectators must get tested immediately and isolate until they receive a negative result.
The department initially issued the warning for Howard Harmer Oval in the caravan park, but the exposure was later confirmed to be at the Village Park complex off Geelong Road East.
Officeworks in Waurn Ponds was also listed as a tier two exposure site, with anyone who visited the store on Sunday from 1.30pm to 2.30pm needing to get tested and isolate until they receive their result.
A positive case also visited an APCO service station, identified as a tier two exposure site, in Highton between 2.10pm and 2.45pm last Sunday.
Cr Asher urged residents who have visited any local exposure sites during the relevant period to get tested for COVID-19.
"Greater Geelong is in a more precarious position this time given the local exposure sites, so it's especially important for everyone to be vigilant and don't delay getting tested if you've been at an exposure site or you're experiencing symptoms," she said.
"Hopefully, with another dedicated combined effort, this latest outbreak will be contained quickly and the restrictions lifted."
The department has also updated exposure site listings for anyone who attended the Carlton versus Geelong game at the MCG last Saturday, July 10.
The Percy Beames Bar on Level 2 of the MCC Members' Reserve is now a classified a Tier 1 exposure site between 4:00 and 4:30pm, and between 5:20 and 5:50pm.
All other sections of the MCC Members' Reserve are now classified as a Tier 2 exposure site.
More details on exposure sites: coronavirus.vic.gov.au/exposure-sites