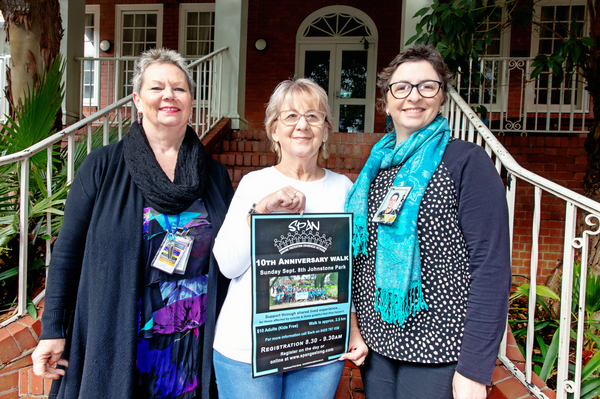 by Luke Voogt
When Moriac mother Jen Wilkinson joined the inaugural Suicide Awareness Walk Geelong in 2010, she brought the memory of her son Alex with her.
The walk was "bitter-sweet" for Jen as she wore a badge with Alex's face after he took his life in 2007 at age 16.
"I wanted to just keep walking forward and bring him with me," she said.
"It was a really good way to walk publicly forward and not be at home sad and grieving."
Meeting other mourning friends and relatives "who understood" was "healing", she said.
"You didn't even have to share words, you just knew they were all there for the same things."
While it's been a decade since Jen walked in the Geelong Suicide Prevention and Awareness Network (SPAN) event, recently she rekindled her connection with the group.
"I felt like I still needed to talk about my situation and grief and the impact of it," she said.
"It's really hard to find people to talk to about it if they haven't been through it."
Alex had struggled with his mental health for five months before his suicide but local medical services failed to properly assess and refer him, Jen said.
"He was a beautiful soul – very creative, intelligent and funny. He was a deep thinker and very, very loyal to his friends.
"We tried to get a help through a lot of people and (organisations) but I don't think they understood what he was going through. He really had nowhere to go."
Jen's grief has inspired her to help others and she is halfway through a diploma to be a counsellor.
Like Jen, walk cofounder Barbara Kosic wanted to promote awareness after her daughter Alisha suicided at age 27 despite a promising future as a psych nurse.
"I just didn't want her death to be in vain, I needed to reach out and get people to listen," she said.
Barbara will join the 10th SPAN Suicide Awareness Walk Geelong on 8 September, which was postponed due to works on Johnstone Park in January.
"To me it doesn't matter if there's 500 people or 50 people," she said.
"It's just a reminder each year that we need to keep fighting to get rid of the stigma that's attached to suicide."
Also joining the walk is suicide bereavement counsellor Annie Norrish, alongside many of her clients.
"I attend the walk to make sure I'm supporting them there on the day," she said.
Annie works for not-for-profit group Hope Bereavement Care, which provides free counselling and group support for people grieving the suicide of a relative or friend.
"People are often very isolated because of the stigma that's associated with suicide," she said.
"The reason they need to come to the groups is to feel they're not so alone. They feel validated by what other people are saying and understand what they're going through."
Registration for Suicide Awareness Walk Geelong opens from 8.30am to 9.30am on 8 September followed by a short memorial service before step off at 10.15am.
For help phone Lifeline on 13 11 14 or Beyond Blue on 1300 224 636.